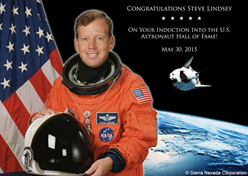 [SatNews] Sierra Nevada Corporation (SNC) congratulates Steven W. Lindsey, senior director of Space Exploration Systems at SNC's Space Systems, on his induction into the U.S. Astronaut Hall of Fame. Lindsey, co-program manager for SNC's Dream Chaser® program, was inducted on Saturday, May 30, 2015 during a ceremony held at Kennedy Space Center's Visitor Complex.
"Since joining SNC in 2011, Steve has been an integral part of the Dream Chaser program," said Mark N. Sirangelo, corporate vice president, SNC's Space Systems. "I've had the privilege to work alongside him for several years. His knowledge and extraordinary background have been invaluable assets to our program. His dedication, passion and unceasing energy are a true embodiment of the SNC spirit. Congratulations Steve, on this well-deserved honor."

Lindsey holds a bachelor's degree in Engineering Sciences from the U.S. Air Force Academy and a master's degree in aeronautical engineering from the Air Force Institute of Technology. As an Air Force pilot, Lindsey flew over 50 different types of aircraft, logging over 7,000 flight hours. In 1995 he was assigned to NASA as an astronaut candidate and became an astronaut one year later. During his tenure at NASA, Lindsey completed five space flights, two as pilot and three as mission commander. He also served as Chief of International Space Station Operations for the Astronaut Office and Chief of the Astronaut Corps. Lindsey retired from the U.S. Air Force in 2006 and from NASA in 2011.
This year's accomplished inductees, John Grunsfeld, Ph.D.; Kent Rominger; Dr. M. "Rhea" Seddon; and Steve Lindsey are the 14th group of space shuttle astronauts named to the U.S. Astronaut Hall of Fame. The Astronaut Scholarship Foundation serves as a consultant for the Hall of Fame.