Spaceflight has announced their SSO-A Integrated Payload Stack has successfully completed a modal survey of the primary structure.
This series of tests, conducted by a third party, subjected Spaceflight's nearly 20-foot satellite rideshare structure (flight structures with mass models to simulate critical customer spacecraft) to low-level vibration to excite the core structure. Results from these tests are used to correlate the detailed finite element model of the structure with flight structure, ultimately allowing engineers to calculate flight environments that the structure, avionics, and customer spacecraft will be exposed to during the launch.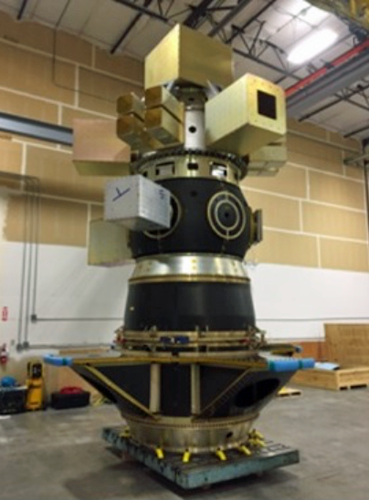 This completes a significant milestone for the company's first Dedicated Rideshare mission, dubbed "SSO-A," which plans to launch many small satellites into sun-synchronous orbit from a SpaceX Falcon 9 next year. Spaceflight's SSO-A mission will carry spacecraft from nearly 50 government and commercial organizations across 16 different countries, including Thailand, Finland, Germany, Australia and Singapore. SSO-A will deploy all of the smallsats to a sun-synchronous LEO, which is popular for Earth-imaging satellites. The mission, scheduled to launch from Vandenberg Air Force Base in California, will transport both microsats and cubesats, with 90 percent of the manifest accounted for by commercial and/or international organizations.
Spaceflight provides the most launch options for customers, working with nearly every global launch vehicle provider, including the PSLV, Dnepr, Antares, Cygnus, Minotaur, Electron, Soyuz and others, to ensure organizations can access space when they want. The "rideshare service" model provides more options for organizations to reach a desired orbit at a much lower cost than buying their own launch vehicle.

Spaceflight has launched more than 120 satellites to date. The frequency of satellite launches, combined with Spaceflight's cross-section of customers and variety of mission-applications, is a strong indicator of the growing capabilities of small satellites and the need for more timely and cost-effective access to space.

Curt Blake, the President of Spaceflight, stated that this is the most complex launch the company has ever designed and developed. Because ground is being broken with such a historic mission, the company needs to ensure the payloads and spacecraft subsystems will withstand the turbulence and vibrations of launch.This is a tremendous accomplishment for the Spaceflight team and testament to the firm's integration expertise.