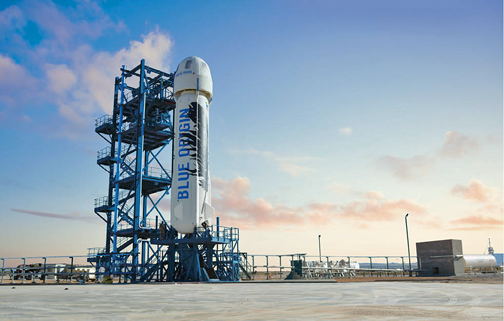 An airspace closure notice published by the Federal Aviation Administration (FAA) on December 9 suggests that Blue Origin is preparing to resume test flights from the company's West Texas launch site of their New Shepard suborbital vehicle after a hiatus of more than a year.
The Notice to Airman, or NOTAM, published by the FAA on its website December 9 closes airspace above Blue Origin's test site between December 11 and 14, from 9:30 a.m. to 4:00 p.m. Eastern each day. The closure is to "provide a safe environment for rocket launch and recovery." The NOTAM does not give additional details about the planned activities, but does identify Blue Origin as the point of contact regarding the airspace closure.
Blue Origin has filed similar NOTAMs in the past in advance of New Shepard test flights. Such notices were originally the only advance notice of those flights, which the company disclosed only after they took place. The company later became more open about New Shepard test flights, proving advance notice of them and even offering live webcasts.
Blue Origin completed a series of suborbital test flights of New Shepard in October 2016. On that last flight, it successfully performed a test of the vehicle's in-flight abort system, with the crew capsule rocketing away from the propulsion module and making a parachute landing. Despite expectations that the propulsion module would be damaged or destroyed by the abort motor's plume, it was able to make a powered vertical landing, similar to four other test flights dating back to November 2015.
Blue Origin subsequently retired that test vehicle, putting the propulsion module on display at events such as the 33rd Space Symposium in Colorado Springs and the Experimental Aircraft Association's AirVenture air show in Wisconsin. Along with it, the company displayed a model of the crew capsule, its interior outfitted with six seats to carry space tourists on the suborbital spaceflights the company plans to offer. New Shepard will also be able to fly research payloads, with some experiments flying on the earlier series of test flights.
The company said it was building a new set of propulsion modules and crew capsules. In recent months, company officials said that test flights using the new vehicles would resume before the end of this year.
To read the entire article, please access this direct News Flash infosite link...