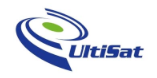 [Satnews] UltiSat, Inc., a provider of global end-to-end managed network services, announces the appointment of Amy R. B. Gwinn as its Senior Vice President of Government Solutions.
Ms. Gwinn joins the company with more than 20 years of leadership experience guiding technology sales development and executing highly successfully business strategies that drive growth. Before joining UltiSat, Gwinn served as Senior Vice President of Sales at Gilat North America, LLC as well as Vice President of Government Sales at TeleCommunication Systems, Inc. where she performed as a key member of the leadership team responsible for market strategies, product launches and business development. She also held multiple P&L and operational roles during her 13-year tenure with the company.
Gwinn graduated from the U.S. Naval Academy, where she earned a Bachelor of Science degree in political science. She served as an active duty navy cryptologist and tactical communications officer assigned to various commands at Ft. George G. Meade, Maryland.
"I am very pleased to announce this key appointment and we are delighted to welcome Amy Gwinn as part of UltiSat's executive team," said Moe Abutaleb, UltiSat's Chief Executive Officer. "Amy's extensive background and successful track record in providing sales team leadership will be instrumental to the expansion of our business going forward in this important and strategic market sector."