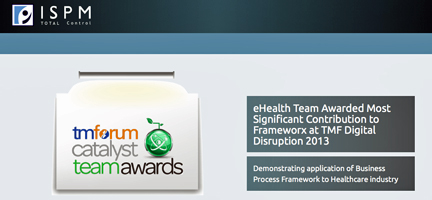 [SatNews] ISPM, a leading vendor of flexible service assurance and management software for telecommunications and IT infrastructure, has announced that the firm will be showing how barriers to the adoption of eHealth services can be easily overcome through the realization of simple but powerful business solutions supported by clear business models—the company will demo their offerings at TM Forum's LATAM Focus Event, from March 25th through the 26th, In Sao Paulo, Brazil.
Solution expert Washington Tavares will demonstrate how eHealth solutions can be used to capture and display patient data in real-time and from a willing audience as an example of the kind of business models and practices that can be realized through eHealth initiatives. The purpose of the demonstration is to highlight ways in which stakeholders can collaborate to deliver practical, compelling solutions that benefit both providers and patients alike, while at the same time illustrating how new business models can be realized successfully. Despite the growing attention paid to eHealth market opportunities, there has been little progress to date in the delivery of relevant and tangible solutions that both meet business objectives and deliver enhanced patient care.
In order to show how barriers to eHealth market growth can be overcome, ISPM's demonstration will focus on one of a number of potential business models that can be delivered today. At the event, ISPM will show how remote monitoring solutions that provide vital data for patient care can be realized to deliver on the promise of eHealthcare opportunities. The capture and delivery of simple, yet critical measurements and their incorporation into medical systems is the first step along the road to the deployment of large-scale eHealth projects that will deliver clear benefits to all stakeholders and is likely to be among the first real business cases for adoption of such services.
"eHealth is hugely promising and yet hasn't really gained the expected momentum," commented Washington Tavares, co-author of the award-winning project, premiered at the TMF's Digital Disruption event in San Jose in 2013. "We will demonstrate the success of our efforts by taking the temperature and blood pressure of delegates in the audience. The data will be delivered in real-time to patient monitoring solutions and presented in a usable way to practitioners. Demonstrating this simple, yet powerful solution provides a clear indication of how new multi vendor eHealth business models can be realized and delivered successfully."
Critical to the success of eHealth initiatives is commonality of approach and interoperability of systems. This requires standardization and close collaboration between stakeholders to ensure reuse of components. However, many previous eHealth initiatives have floundered.
"This is because insufficient attention has been paid to the standardization efforts required to make solutions and data reusable, interoperable and, above all, cost effective," added Mr. Tavares. "Now, ISPM has collaborated with other stakeholders to show how relevant and practical solutions can be created with common components and best practice from telecoms and IT networks, which shows how we are exploring ideas for business models, commercialization and operational service implementation. The way to stimulate and accelerate adoption of eHealth services is to provide tangible, workable solutions that prepare the market and all stakeholders and demonstrate to CSPs how they can be capitalized."
The efforts of ISPM and others clearly show how patient and business benefits can be delivered in tandem, while capitalizing on industry initiatives to achieve best practice, such as the TM Forum's Business Process Framework (eTOM). eTOM resolves interoperability and standardization issues to help catalyze new opportunities in eHealth. Such initiatives provide clear templates for the emergence of the required business models and will help stimulate eHealth service realization in Latin America and elsewhere.
ISPM will be joined by local healthcare providers at the TMF's LATAM Focus, who will explain how the initiatives help meet their needs and will help stimulate eHealth opportunities in Latin America.
To learn more, head over to ISPM's infosite at http://www.ispm.com/