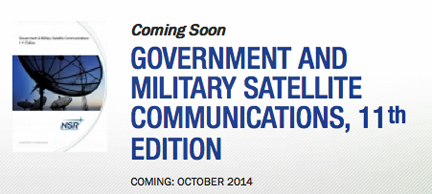 [SatNews] NSR's Government and Military Satellite Communications, 11th Edition (GMSC11), is the longest-running assessment of the global demand, trends, and outlook of government and military use of commercial satellite communications. Building on a decade of data and analysis, GMSC 11 presents readers with an in-depth look at application drivers, regional conditions, and capacity demand over the next ten years.
As ongoing budget constraints cut through all aspects of the government and military market, navigating the optimum balance of proprietary versus commercial, bulk versus managed, and one frequency versus another is at the forefront of every procurement decision. The report addresses the interplay of these variables, producing a bottom-up evaluation of the state of the market.
GMSC 11 features more detailed and event-driven scenarios than ever before, analyzing the market from a series of various "what ifs" to explore the impact of potential events and policy changes on government and military SATCOM procurement, providing actionable information and perspective to players.
Key Questions:
How could the shift from "boots on the ground" to "eyes in the sky" alter the type and amount of capacity procured?
How will reduced budgets impact satcom procurement moving forward?
Can HTS make a play against traditional FSS capacity?
What role will proprietary government and military satellites play over the next decade?
What will the growing demand for ISR and increasingly high-resolution sensor suites mean for regional capacity demand?
For additional information regarding NSR, please visit http://www.nsr.com/