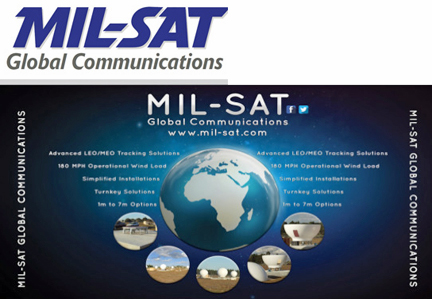 [Satnews] MIL-SAT Global Communications announces the successful deployment of Cobham SATCOM (Sea Tel) new 4300 Tracker LEO/MEO tracking antenna for use with exactEarth's recently launched exactView-9 AIS satellite.
Installed on a steep hilltop with limited access at Cerro Sosa Communication near the Panama Canal, MIL-SAT completed the antenna installation in 8 days without benefit of a crane or fork lift. Lynn Oldham, MIL-SAT's Director of Operations said that "On time, under budget and right the first time, doesn't happen by accident."
The Cobham SATCOM (Sea Tel) 4300 Tracker antenna installed in Panama, was installed utilizing a standard commercial concrete pad, at significant cost savings over traditional tracking antenna high precision foundation requirements. Housed inside a tuned low loss radome, the 4300 Tracker antenna can remain fully operational in winds up to 155 MPH. The 3 axis balanced system utilizes an RF system designed specifically for exactEarth's unique satellite application with fully integrated tracking capability.
Twenty-five year SATCOM veteran, Wes Schenck, SATCOM (Sea Tel) Technical Sales Manager, said, "The 4300 Tracker antenna is the latest addition to our new advanced antenna product line. The system was literally brought on line the same day that the AIS EV-9 satellite was launched and due to the built in tracking capability we were able to receive signals from the satellite before accurate TLE data was available."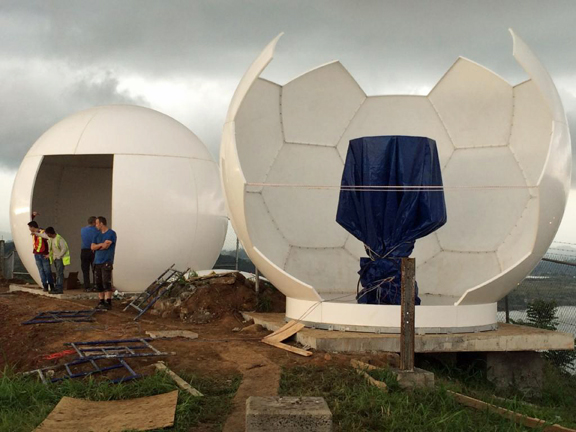 The LEO/MEO Tracker series antennas, supporting L- to Ka-band tracking, is designed and built at the Cobham SATCOM (Sea Tel) factory in Concord, California, which has been manufacturing affordable, high quality tracking antenna systems for over 30 years.
exactEarth launched its advanced AIS satellite, exactView-9 (EV9) on September 28, 2015, to complement the existing polar orbiting satellites of its constellation. EV9 orbits around the equator every 97 minutes providing expanded and detailed coverage to the busy tropical shipping regions of the world. The performance of the new 4300 Tracker LEO/MEO tracking antenna provided by MIL-SAT, plays a pivotal role in enabling exactEarth to rapidly provide data to it's global customers.
"We are very pleased with the capability and flexibility of MIL-SAT to work with us on this installation and bringing it in on time, on budget. In addition, the Sea Tel 4300 antenna has enabled exactEarth to change the economics of its ground station operations without compromising performance," said Philip L. Miller, exactEarth's VP of Engineering and Operations.
MIL-SAT is a woman owned global communications company based in Surry, Virginia. MIL-SAT specializes in the design, installation and support of advanced LEO, MEO and telemetry tracking antenna systems used in a variety of SAR, AIS, and DOD applications.