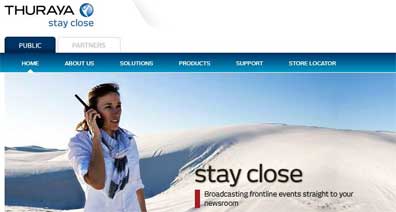 [SatNews] For most it is incomprehensible to imagine being hungry.
The famine-stricken area of Somalia is an unfolding tragedy that refuses to abate. The country, situated in the Horn of Africa, is experiencing its worst drought for 60 years leaving vast swathes of the country without water, vegetation or food supplies and relying on government agencies and worldwide donations for support.
Key to driving awareness and fueling additional worldwide provision is media awareness.
Al Aan TV, the UAE-based pro-woman TV channel, is actively supporting the campaign to keep Somalia's plight at the forefront of the world's mind and, supported by international mobile satellite services operator, Thuraya,
will be broadcasting a series of live stories and reports from the region over the coming months.
About 60 percent of the people in Somalia have been inaccessible to aid, and those are just the people in temporary camps.
Al Aan TV will be
following the stories of the families, some of whom have walked for weeks to find supplies, and airing live coverage of their courageous journeys in an effort to encourage viewers around the globe to assist wherever and however they can.
Thuraya, supports such projects, is providing the efficient satellite broadband technology required to broadcast stories and reports live via its media friendly Thuraya IP broadband solution. "We have a strong partnership with Al Aan TV, whom we openly admire for their continued efforts to highlight human interest stories.
Somalia is a vast, barren country with a heart-breaking story to tell, we wanted to ensure Al Aan had the means to get the story out.
Our Thuraya IP solution enables them to broadcast live from even the most remote location and provides the platform to re-focus international attention on Somali community," said
Thuraya's Vice President, Corporate & Marketing Communications,
Mr. Ebrahim K. Ebrahim
.
On a similar note
Ms. Nisreen Sadek
,
News Projects Manager of Al Aan TV
said, "We are committed to proving leading and breaking news to our audience,
we ensure that we are well-geared to stream stories from all parts of the globe and that is why we selected Thuraya IP as our main satellite broadband solution.
The compact, portable and user-friendly solution will enable us to show the reality on the ground in Somalia without delay to our studios, in the hope of bringing attention to our audience so that they participate in saving the lives of those in Somalia."
Al Aan TV, in partnership with Thuraya,
aims to unveil from the ground the suffering of millions of people in Somalia that have not witnessed any rain in the past two years, which has resulted in an unprecedented drought situation. As a result of the famine, tens of thousands of people have already died and the UN projects that 750,000 more deaths
could take place if the world does not take action soon. The drought has led to a mass exodus of refugees from Somalia to Kenya, namely
Dadaab which is now known as the world's largest refugee camp.