[SatNews] Two spacecraft placed in the same orbit will make the Moon the center of their attention.
Cape Canaveral Air Force Station, Florida, (September 10, 2011) — A United Launch Alliance (ULA) Delta II rocket carrying the Gravity Recovery and Interior Laboratory (GRAIL) spacecraft for NASA lifted off from Space Launch Complex (SLC)-17B at 9:08 a.m. EDT today. This launch marks the 9th flight for ULA in 2011, the 49th Delta II mission for NASA and the last currently-planned flight from this launch complex. GRAIL-A is scheduled to reach the moon on New Year's Eve 2011, while GRAIL-B will arrive New Year's Day 2012. The two solar-powered spacecraft will fly in tandem orbits around the moon to measure its gravity field.
GRAIL will answer longstanding questions about the moon and give scientists a better understanding of how Earth and other rocky planets in the solar system formed.
"If there was ever any doubt that Florida's Space Coast would continue to be open for business, that thought was drowned out by the roar of today's GRAIL launch
," said
NASA Administrator
Charles Bolden
. "GRAIL and many other exciting upcoming missions make clear that NASA is taking its next big leap into deep space exploration, and the space industry continues to provide the jobs and workers needed to support this critical effort."
"
With the final launch from SLC-17, we reflect on the tremendous historical significance of this complex and the impact of the military and scientific payloads that began their missions from this site
," said
Michael Gass
,
ULA president and CEO
. "From the Global Positioning System satellites launched for the U.S. Air Force, to NASA's Mars rovers Spirit and Opportunity,
in total this complex has been the origin for 259 critical Delta missions to protect our country and explore our universe
."
The GRAIL mission was launched aboard a
Delta II Heavy 7920H-10 configuration vehicle featuring a ULA first stage booster powered by a Pratt & Whitney Rocketdyne RS-27A main engine and nine Alliant Techsystems (ATK) strap-on solid rocket motors. An Aerojet AJ10-118K engine powered the second stage. The payload was encased by a 10-foot-diameter composite payload fairing. The straight-line distance from Earth to the moon is approximately 250,000 miles (402,336 kilometers). NASA's Apollo moon crews needed approximately three days to cover that distance. However, each spacecraft will take approximately 3.5 months and cover more than 2.5 million miles (4 million kilometers) to arrive. This low-energy trajectory results in the longer travel time. The size of the launch vehicle allows more time for spacecraft check-out and time to update plans for lunar operations. The science collection phase for GRAIL is expected to last 82 days.

"Since the earliest humans looked skyward, they have been fascinated by the moon," said GRAIL principal investigator Maria Zuber from the Massachusetts Institute of Technology in Cambridge. "GRAIL will take lunar exploration to a new level, providing an unprecedented characterization of the moon's interior that will advance understanding of how the moon formed and evolved."
"ULA is extremely proud to be a part of NASA's team for the GRAIL mission and we sincerely congratulate all of our mission partners," said
Jim Sponnick
,
ULA vice president, Mission Operations
. "
Today's successful launch is the third NASA mission ULA has launched in just three months with two more to come in October and November.
The timing and precision of this campaign along with a one-launch-at-a-time focus are testaments to our commitment to providing reliable and cost-effective space launch services to our customers."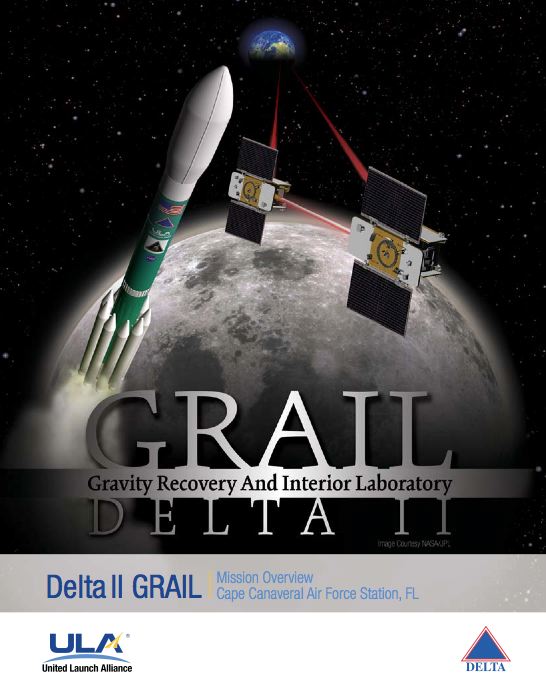 The GRAIL mission will place two spacecraft into the same orbit around the Moon. As they fly over areas of greater and lesser gravity, caused both by visible features such as mountains and craters and by masses hidden beneath the lunar surface, they will move slightly toward and away from each other. An instrument aboard each spacecraft will measure the changes in their relative position very precisely, and scientists will translate this information into a high-resolution map of the Moon's gravitational field. GRAIL's primary science objectives are to determine the structure of the lunar interior, from crust to core, and to advance understanding of the thermal evolution of the moon. By mapping the lunar gravitational field globally — not just on the nearside — to unprecedented accuracy and resolution,
GRAIL will peer deep inside the moon to reveal its internal structure and thermal history.
Knowledge acquired about the moon from GRAIL will be extended to understand the broader evolutionary histories of the other rocky planets in the inner solar system: Earth, Venus, Mars, and Mercury. Indeed, the moon is a linchpin for understanding how the terrestrial planets evolved.
ULA's next launch is the Delta II NPOESS Preparatory Project (NPP) mission for NASA currently scheduled for October 25, 2011 from Space Launch Complex-2 at Vandenberg Air Force Base, California.
Within the mission objective, all science requirements are derived from six distinct science objectives. These science objectives are:
map the structure of the crust and lithosphere
understand the moon's asymmetric thermal evolution
determine the subsurface structure of impact basins and the origin of mascons
ascertain the temporal evolution of crustal brecciation and magnetism
constrain deep interior structure from tides
place limits on the size of the possible inner core
The GRAIL mission is an element of the Discovery Program within the NASA Science Mission Directorate. GRAIL will place twin spacecraft in a low-altitude (50 km), near circular, polar lunar orbit to perform high-precision range-rate measurements between the two spacecraft using a Ka-band instrument.
Subsequent analysis of the spacecraft-to-spacecraft range-rate data provides a direct measure of the lunar gravity.
GRAIL was developed by JPL in collaboration with Lockheed Martin Space Systems Company in Denver, Colorado, who built the spacecraft and associated subsystems, and with science leadership from Massachusetts Institute of Technology and Goddard Space Flight Center. Launch management is the responsibility of NASA's Launch Services Program at the Kennedy Space Center in Florida.
ULA program management, engineering, test and mission support functions are headquartered in Denver, Colorado. Manufacturing, assembly and integration operations are located at Decatur, Alabama, Harlingen, Texas, and San Diego, California. Launch operations are located at Cape Canaveral AFS, Florida, and Vandenberg AFB, California.