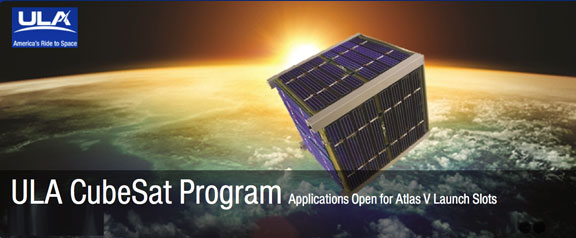 Free CubeSat rides via Atlas V rockets?
You betcha... as applications are now open for US colleges and universities to compete for those free rides on United Launch Alliance (ULA) Atlas V rockets. Known as rideshare, this process is a flight-proven and innovative approach that provides customers a low-cost way to achieve various mission objectives without the need for a dedicated launch vehicle.

The company has successfully launched 106 missions, including 55 CubeSats, with 100 percent mission success. Thanks to ULA's work with Tyvak Nanosatellite Systems, Inc., the latter will provide no-cost access to space for selected science, technology, engineering and math (STEM) CubeSat customers for rideshares on the aforementioned rocket, as well as low-cost access to space for commercial and U.S. government CubeSat customers. CubeSats are miniaturized satellites originally designed for use in conjunction with university educational projects and are typically 10 cm x 10 cm x 10 cm (4 inches x 4 inches x 4 inches) and approximately 1.3 kg (3 lbs).
CubeSat competition applications, which are available at http://www.ulalaunch.com/cubesats.aspx, must be returned by June 1, 2016—winning schools will be announced during the summer. This competition is open to all U.S. accredited colleges and universities, all of which are encouraged to team or perform outreach with K-12 schools to further expand these opportunities throughout the STEM community. Other judging criteria for university proposals include technical requirements, mission objectives and the ability to meet their stated development schedule. Senior personnel from ULA and Tyvak will be on the selection committee.
Colleges and universities with questions about the application process and request for proposals should contact ULA via ulacubesats@ulalaunch.com. Answers to the questions received will be posted on the ULA website at http://www.ulalaunch.com/cubesats.aspx.
The goal by ULA is to eventually add university-developed CubeSats to nearly every Atlas and Vulcan Centaur launch, according to ULA President and CEO, Tory Bruno. "The potential is for 100 rides per year," he said. "ULA's CubeSat program revolutionizes access to space for these payloads while ensuring that the next generation of rocket scientists and space entrepreneurs has the opportunity to continue driving on-orbit innovation."
Dr. Jordi Puig-Suari, the Chief Science Officer for Tyvak, indicated that many members of that firm's team were derived from university-level CubeSat programs. "Working together with ULA to make space accessible to university researchers is a cause close to our hearts at Tyvak," he said.
Some frequently asked questions regarding this program, and answers, are as follow...
Q) Who can participate?
A) The program will be available to all U.S. accredited colleges and universities. These colleges are encouraged to team with K-12 schools to further expand these opportunities throughout the STEM community.
Q) What is the size of the CubeSat launch slot?
A) The volume is the standard 1U CubeSat at 10 cm x 10 cm x 10 cm (4" x 4" x 4") and approximately 1.3 kg (3 lb).

Q) Does the college or university have to be accredited?
A) Yes, the college or university must be accredited. The college or university also must provide undergraduate degrees; graduate and/or doctorate-only universities are not eligible to participate.

Q) How many free slots are available?
A) A total of six 1U CubeSat launch slots will be offered on two selected Atlas V missions, with the first targeted for mid-2017.

Q) What if a group of students want to submit a proposal? Do they have to be from a university or have the backing or support of the university?
A) Yes, students submitting a proposal must be associated with and have support of their college or university. In addition, students are encouraged to gain support from industry and U.S. government programs that provide financial assistance to CubeSat developers.

Q) Can middle and high schools, as well as elementary schools, submit proposals?
A) No, not at this time. Competing colleges and universities are strongly encouraged to partner with local elementary, junior and senior high schools and include students on their teams. Proposals with local K-12 student participation will be assessed higher under the selection criteria. K-12 teams may be interested in submitting a Student Rocket Launch payload.

Q) Where do the CubeSats ride?
A) The CubeSats will ride in the Aft Bulkhead Carrier (ABC), which is located at the aft end of the Atlas V Centaur second-stage.

Q) Can a university be awarded multiple CubeSat launch slots?
A) No, for each RFP process, a university only can receive one award.

Q) What are the selection criteria?
A) The proposals will be evaluated on quality, feasibility, innovativeness and outreach opportunities.

Q) How is ULA's CubeSat initiative different from other CubeSat launch programs?
A) There are a number of U.S. government-sponsored CubeSat programs that provide launch opportunities, including NASA's CubeSat Launch Initiative and the US Air Force's University Nanosat Program. ULA's CubeSat program complements these efforts. Additionally, ULA is the first major U.S. launch service provider to move forward with commercially manifesting and launching CubeSats directly onto ULA vehicles.