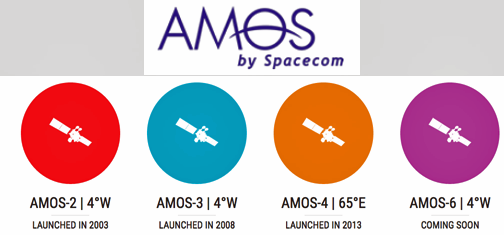 A story in the online infosite Haaretz.com, authored by Shelly Appelberg and Michael Rochvarge, is reporting that Spacecom, the operator of the Amos satellite fleet, has been purchased by China's Beijing Xinwei Technology Group for $285 million.
This acquisition values Spacecom at a premium of 41 percent to the firm's average stock price on the Tel Aviv Stock Exchange over the past month. The agreement calls for Beijing Xwei to take on Spacecom's 1.478 billion shekels in debt. Spacecom shares jumped more than 9 percent on Tuesday when the company first reported talks with an unnamed buyer. However, by Wednesday, the shares decreased 0.7 percent in spite of the valuation.

The deal is the latest in a string of Chinese acquisitions in Israel and follows the Delek Group's announcement just two days ago that it had reached an agreement to sell its 52.3 percent controlling stake in insurer Phoenix to China's Fujian Yango Group for 1.95 billion shekels. That deal immediately raised concern about a Chinese company managing tens of billions of shekels in Israel pension savings. In the case of Spacecom, Beijing Xinwei, a maker of communications equipment that was formed in 1995 and trades on the Shanghai Stock Exchange, will be in control of a fleet of satellites.
Observers said the deal could face opposition from regulators, including the Communications Ministry. However, Pollack said the transaction would be done in accordance with Spacecom's license terms, which require the satellites be operated from Israel and that the company remain Israeli. The sale would put Spacecom under the direct control of an Israeli-domiciled company called Big Bird, which is managed by Major General (Res.) Ami Shafran, a former head of the Israel Defense Forces communications branch. Big Bird is 100 percent-owned by a Luxembourg company which, in turn, is owned by Beijing Xinwei. Observers also pointed to a precedent for foreign control of a key Israeli communications operator: The previous ownership of Partner Communications, Israel's second-largest cellular company, by Hong Kong-based Hutchison.