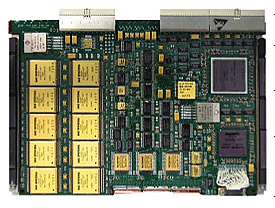 Lots of responsibility as BAE Systems equipment governs command and control functions and provides electric power aboard DigitalGlobe's WorldView-2 satellite.
Launched October 8 from Vandenberg Air Force Base, California, the satellite will provide very-high-resolution images of Earth in support of U.S. national security.
A single-board BAE Systems RAD750® radiation-hardened computer manages data processing command and control functions for WorldView-2, which will provide images from orbit almost 500 miles above the planet's surface.
The company also will provide a high-reliability power supply for the satellite's imaging sensor instrument.
"The RAD750 single-board computer and the power supply unit are critical elements for providing our national security with data and high-quality imagery for collection and analysis,"
Ian McDonald,
BAE Systems' director of space electronics solutions in Manassas, Virginia.
WorldView-2 is the third satellite in a National Geospatial-Intelligence Agency program that will provide high-resolution Earth images. The program, called NextView, offers a new generation of satellites with panchromatic and multispectral resolution that surpasses any preceding imagery capabilities to improve geospatial intelligence.
The WorldView-2 satellite will supply full-color images for
enhanced spectral analysis, mapping and monitoring, land-use planning, disaster relief, exploration, defense and intelligence, and visualization and simulation
.
RAD750® 6U CompactPCI single-board computer