Harris Corporation (NYSE:HRS) has announced several strategic initiatives for its ADC™ and D-Series™ automation product lines — these initiatives are designed to support nexgen, automated workflows that enable customers to implement mobile television, new media and other emerging business models.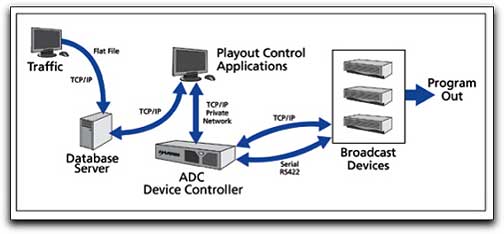 Harris
is building a new, state-of-the-art automation test and integration lab in its Denver facility to provide clients with a hands-on environment in which to experience a complete business and workflow solution for traditional and new media distribution models.  As well as providing a real-world demonstration for customers, these media workflows will be used by Harris engineers and developers to design and test new innovations in automation. The lab will be equipped with
ADC
and
D-Series
automation systems controlling Harris and third-party hardware devices. The automation systems will enable advanced media preparation and distribution workflows, which will be controlled by
Harris Invenio
digital asset management software and the
Enterprise Management
workflow platform.  In addition, business software such as
Harris OSi
traffic systems will be installed to demonstrate features such as
Live-Update
, an interactive log that allows the seamless exchange of information between traffic and automation. 
To take full advantage of the new laboratory,
Harris
will relocate operations for its popular ADC product line from Sunnyvale, California, to the Denver facility.  Harris will be expanding the size and international scope of ADC development and quality-assurance teams with new staff based in Denver, as well as in Beijing, China.  To ensure continuity and service quality throughout this expansion, key personnel will continue to work from Sunnyvale. The construction of the Denver laboratory follows the opening of the well-received D-Series facilities in Winnersh, England, as well as the positive customer response to similar Harris facilities in Toronto, Canada, and Sydney, Australia.  Continually updated with the latest Harris products, these facilities provide clients around the world with convenient, local environments in which they can see and work with the latest innovations in media technology. 
Manufacturing for the Harris automation products will be co-resident with
Harris NEXIO
server manufacturing, joining the server and automation quality-assurance function added earlier this year.  Combining these operations will allow Harris to achieve improved efficiencies and quality standards, while also expanding production capacity to increase supply.  In addition, this strategic merging will enable enhanced integration between Harris servers and automation.