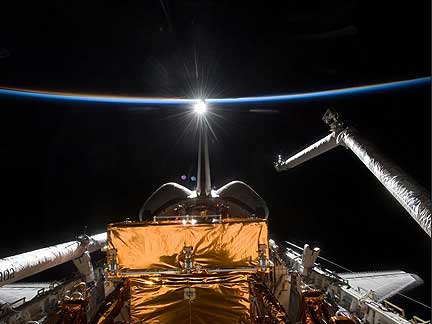 The seven astronauts who upgraded NASA's Hubble Space Telescope are expected to return to Earth aboard space shuttle Atlantis on Friday after an 11-day mission.
The
two landing opportunities at NASA's Kennedy Space Center in Florida are at 10 a.m. and 11:39 a.m. EDT.
NASA flight directors will evaluate weather conditions at Kennedy before permitting Atlantis and its crew to land. If weather prevents a return to Kennedy on Friday,
the backup landing site at Edwards Air Force Base in California will be activated Saturday for consideration as well.
After touchdown in Florida,
the astronauts will undergo physical examinations and meet with their families.
The
STS-125 crew is expected to hold a news conference about four and a half hours after landing Friday
. Both news events will be broadcast live on NASA Television.
In this image provided by NASA, the space shuttle Atlantis is backdropped by the blackness of space and the thin line of Earth's atmosphere on Wednesday. NASA is considering postponing the shuttle's landing due to a forecast of rain on Friday. (NASA/Associated Press)