Globalsat Group is the "2017 Latin America Communications Company of the Year Award" from Frost & Sullivan and the consortium is also the first such company to receive this award for two consecutive years, 2016 and 2017, respectively.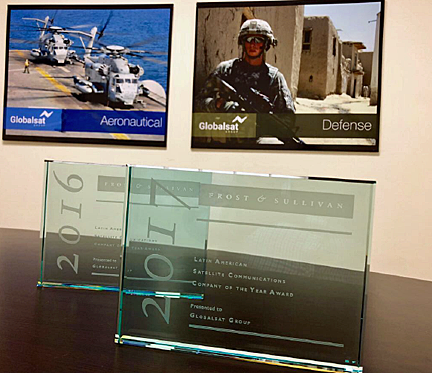 In its assessment of Globalsat Group's operation, Frost & Sullivan mentioned that, despite conditions of favorable demand for satellite connectivity, the convergence of mobile and fixed satellite solutions and growing competition from the expanding coverage of terrestrial technologies is forcing providers to cater to increasingly complex client needs and very high service-level requirements. Globalsat Group has continued to grow despite these challenges and beyond competitors.
The Company of the Year award recognizes Globalsat Group's performance in several key parameters including:
Anticipating scenario
Customer purchase experience
Addressing unmet needs
Brand equity
Financial performance
Globalsat Group has created a leadership positioning in satellite telephony, Internet and data communications with a strong focus on user experience, achieved through an innovative organizational structure uniquely suited to its diverse market footprint.
The mesh network advantage
To maintain a high level of efficiency and client satisfaction, the Globalsat Group borrows a modern concept from telecommunication technology and operates as a mesh network: customers in each territory are directly served by the nearest team, and within each team, there are experts in specific areas. When expertise from another team is required, there is direct contact from team to team without going through the central organization. If this requirement extends over time, the organization adapts dynamically; the required expert relocates and becomes part of the local team for the duration the project. This allows for streamlined management and also gives all clients access to all experts in all areas, such as standard voice / telephony and data / Internet networking, IoT / M2M, software and hardware development and integration, aviation and maritime satellite technology, streaming / media and even land mobile radio. Most clients use these services in mission critical applications, when infrastructure or lives are at stake, under extreme conditions or exceptional circumstances, where other means of communications cannot operate. To meet these needs, the company currently operates offices in USA, Argentina, Bolivia, Brazil, Canada, Chile, Colombia, Mexico and Peru, as well as business partners throughout Latin America and the Caribbean, all overseen from head offices in the United States.
J. Alberto Palacios, CEO of Globalsat Group, said, "We thank Frost & Sullivan for granting us this unprecedented honor, which greatly validates our strategic vision, organizational structure and We proudly thank Frost & Sullivan for granting us this unprecedented honor, which greatly validates our strategic vision, organizational structure and tactical business decisions. With more than 20 years of experience and a customer base that includes verticals such as government and NGOs, finance, oil and gas, maritime, mining, agriculture and tourism, Globalsat Group is, according to Frost & Sullivan, one of the the top satellite communications service providers. "