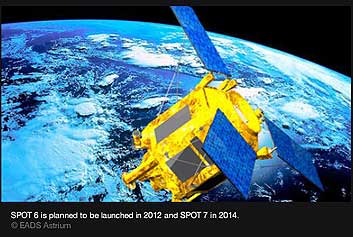 [SatNews] Astrium Services has signed a 10-year partnership with the Russian research and development center ScanEx for the reception and distribution rights on the upcoming SPOT 6 and 7 satellites.
This partnership, which also
provides ScanEx the exclusive reception and distribution rights on the SPOT 5 satellite, is part of a long term cooperation programme between Astrium and Russian industry
.
ScanEx is a remote sensing company offering a complete set of services ranging from the acquisition to the processing of Earth observation images from space.
ScanEx is now the exclusive regional partner throughout the Russian Federation for the SPOT 4 & 5 satellites and the upcoming SPOT 6 and 7 satellites, guaranteeing continued access to high-resolution optical data. This exclusivity over the next ten years will enable ScanEx to secure access to high-resolution data until 2019.
Eric Béranger
,
CEO Astrium Services
, declared: "We officially announced the funding for the SPOT 6 & 7 program in June 2009.
This is the first time in the remote-sensing industry that satellites have been developed through entirely private funding.
This partnership will ensure that ScanEx has secure, long-term access to high resolution data.  This important contract, signed two years before the launch of SPOT 6 is a strong signal of confidence in our long term strategy."
Vladimir Gershenzon
,
ScanEx General Director
, said: "The long term exclusivity on high resolution imagery over the
Russian Federation
will enable us to access high resolution SPOT data cheaper and faster and to foster the development of transversal thematic applications at both regional and national levels. This partnership will reinforce ScanEx's key position in the Russian space data market".
The SPOT 6 and SPOT 7 satellite constellation builds upon the heritage of the SPOT 5 satellite that was launched in 2002, providing high resolution data at a resolution of 2.5 metres. SPOT 6 and 7's optical sensors will retain a 60-kilometre swath of coverage with an improved resolution of 1.5 meters and a daily acquisition capability of six million square kilometres.
This latest partnership
builds upon Spot Image's long standing collaboration with ScanEx that began with distribution rights for imagery from the SPOT 2 and 4 satellites. This was followed in 2008 when ScanEx was granted reception and distribution rights for the SPOT 5 and Formosat-2 satellites over the Russian Federation and Belarus.
Data delivered by SPOT satellites are widely used in Russia for mapping, forestry and disaster management.
In summer 2010, images from SPOT 4 and 5 were used for burnt areas assessment after the fire season in Russia. 
Taking full advantage of the resources and skills offered by
Spot Image and Infoterra, the Geo-information division of Astrium Services has become a recognized leader in the geo-information
market by offering decision-makers sustainable solutions to increase security, protect the environment, and better manage natural resources. It has
exclusive access to SPOT and TerraSAR-X satellite data, while also calling on a full gamut of space data sources and airborne acquisition capabilities, enabling it to offer an unrivaled combination of Earth observation products and services. Its portfolio spans the entire geo-information value chain.