SSL, a Maxar Technologies company (formerly MacDonald, Dettwiler and Associates Ltd.) (NYSE: MAXR; TSX: MAXR), and Scepter, Inc. will host key leaders in technology, government, infrastructure and finance to discuss the challenges and opportunities in atmospheric monitoring at an exclusive forum at SSL's satellite manufacturing facility in Palo Alto, California.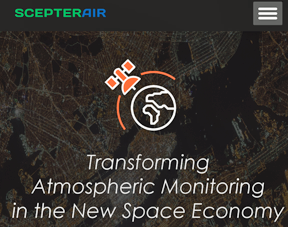 At this invitation only event, which will occur on March 22, 2018, Scepter will reveal how they are uniquely leveraging the new space economy, sensor IoT, big data, and block chain technology to create the next evolution of Earth Observation (EO) services. Thought leaders will discuss the breadth of the Scepter business opportunity across government and commercial vertical markets, the benefits associated with taking a commercial approach to atmospheric monitoring, and the capabilities of Scepter's ecosystem partners: SSL and Radiant Solutions.
Philip Father, CEO of Scepter, stated that the company is pleased to co-host this event with Maxar's SSL as this event will provide attendees with insight into Scepter capabilities through interaction with Scepter and its ecosystem partners. At this event, the company will elaborate on the new space opportunity in the atmospheric monitoring market, using SSL technology and Radiant Solutions expertise, as well.
Dario Zamarian, group President of SSL, added that atmospheric monitoring plays a critical role in improving national air quality standards and ultimately supporting life on Earth. As Scepter's ecosystem partner, SSL will leverage the firm's depth of experience in satellites, ground systems and big data solutions to help power a better world."
What
Atmospheric monitoring in 2020: Transforming air quality, compliance, climate and health via space-based commercial innovation and big data analytics
When
March 22, 2018, 2 – 6 p.m.
Where
SSL's Palo Alto Manufacturing Facility
Who
Moderator — Duncan Davidson, Bullpen Capital
Guest Speakers
Jack Broadbent, CEO, Bay Area AQMD
Nena Shaw, Smart Sectors, U.S. EPA
William Sonntag, Group on Earth Observations (GEO)
James Montgomery, March Capital Partners
Bradley Rotter, Rivetz Corporation
Dan Smith, Radiant Solutions, a Maxar Technologies Company
Negar Feher, SSL, a Maxar Technologies Company