Pakistan's Space & Upper Atmosphere Research Commission (SUPARCO) has signed a contract with China Great Wall Industry Corporation (CGWIC) for the joint-development and launch of the PakSat Multi-Mission (PakSat-MM1) satellite.

According to a report from the state-owned Associated Press of Pakistan, PakSat-MM1 will operate as a commercial communications satellite, including the provision of Direct-to-Home (DTH) services. However, according to CGWIC (Twitter), the PakSat-MM1 deal also involves an interim satellite to serve as a stopgap. The contract for the "gap filler satellite" was also finalized. The APP states that the stopgap satellite had already "arrived at Pakistan's geostationary orbital location of 38.2° East." In addition to PakSat-MM1, Iqbal also confirmed the status of two other SUPARCO satellite programs.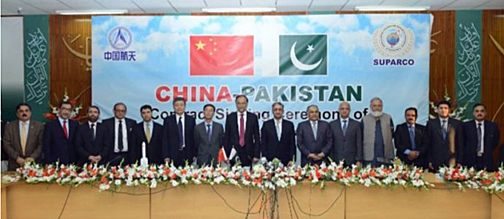 First, Iqbal stated that Pakistan's first LEO Earth Observation satellite — Pakistan Remote Sensing Satellite (PRSS-1) — will be launched in mid-2018. According to SUPARCO, the PRSS-1 will have a service-life of five years. Second, an indigenously produced satellite from SUPARCO — i.e., Pakistan Technology Evaluation Satellite-1A (PakTES-1A) — is also in the pipeline.
"One important element of this contract (PakSat-MM1) is that both … sides are contributing 50 percent. This is a joint-effort of both countries that makes it (PakSat-MM1) even more valuable," said Pakistan's Minister for Planning, Development and Reforms Ahsan Iqbal to journalists (Radio Pakistan). According to Iqbal, "[PakTES-1A] is an indigenous project from concept till launch by SUPARCO engineers and scientists."
It is unclear if PakTES-1A will be launched separately or as co-payload (with the PRSS-1 or some other satellite). However, it appears that the PakTES-1A will accompany PRSS-1. SUPARCO's original vision for the PRSS-1 — initially known as the Earth Observation Satellite System (EOSS) in 2006-2007 — was to be comprised of two satellites: one equipped with an electro-optical (EO) system and another with a synthetic aperture radar (SAR).
Article source: QUWA DAILY