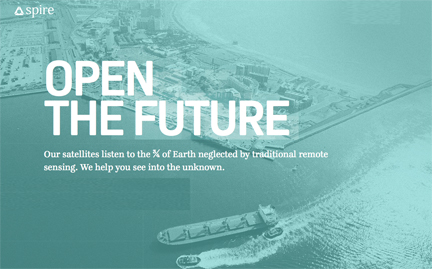 [SatNews] Spire has been awarded up to $2.9 million in grants from Scottish Enterprise, the international investment and trade promotion agency of the Scottish Government.
The funds will help accelerate Spire's international growth along with the opening of a new office in Glasgow, Scotland, that will serve as a crucial hub for satellite engineering and development. Scotland, also known as Silicon Glen, is a rising force within the technology industry. The region's lower cost base and extensive range of universities create a rich environment, ideal for both Spire and Scotland's growth. With an office in Glasgow, Spire will now have access to a strong base of talented engineers who are capable of solving some of today's most complex challenges in order to develop the next generation of GPS Radio Occultation technology. Spire's new European branch will also support Scotland's developing tech sector, creating more job opportunities and stimulating progressive technological advancements in the field of weather data collection for the entire world.
2015 has already proven to be a pivotal year for Spire: in January the company announced its plans to vastly improve global weather forecasting with the launch of 20 satellites by the end of year. The launch of satellites coincides with the impending gap of satellite weather data in 2016, where the U.S. economy and national safety will potentially be at high risk due to a significant reduction in weather and climate data. Spire offers a collaborative gap-mitigation solution with its resilient constellation of satellites by leveraging the most advanced GPS-Radio Occultation weather data technology. The company's satellites will be able to provide five times more weather GPS-RO data than is currently available from today's fleet of weather satellites at a fraction of the cost of current data-collecting solutions.
In 2014, Spire raised $25 million in Series A funding, bringing the total amount raised to $29 million and also opened a new branch location in Singapore. Now with its third global office in place, the company has plans to double its Glasgow team to over 50 full-time employees by 2018. The SDI grants, which come through Regional Selective Assistance and SMART: Scotland programs, affirm both Scotland's growing aerospace industry and Spire's commitment to international growth. Spire's new office is located at 45 Finnieston Street Glasgow, G3 8JU.
Executive Comment

"The confidence placed in us from Scotland enables us to expand our global footprint to attract the skills and talent we need to deliver on the next generation of weather satellites," said Spire's CEO, Peter Platzer. "We are not only looking for the top one percent of the world's talent pool, but the one percent that demand constant challenge and improvement that has come to embody Spire's culture. And just as we aim to hire and nurture the best and brightest, we will continue to offer them a unique, well-rounded and international life experience with plenty of excitement to spare."