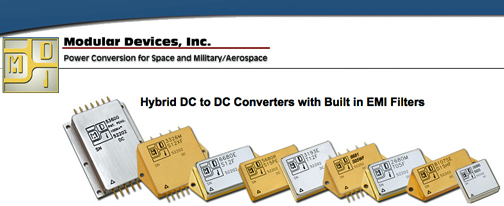 A new release from Modular Devices is heading to the marketplace — their 396 500 Watt Proton Rad Hard 100K+ Space Power Supply High Power DC - DC Converter.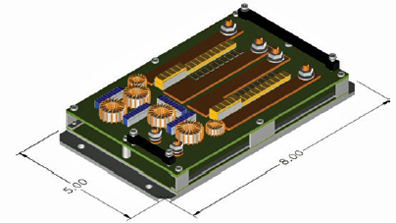 The *3696 DC-DC converters are a family of 500 watt rated modules that provide high reliability power for critical space environment applications that require higher power than full hybrid DC-DC converters can offer. The circuit topology of the *3696 provides superior SEU and 100K+ TID performance. Five different ranges of input voltage are offered, each tailored to popular satellite bus voltages. A range of popular single and dual output voltages and custom output voltages are available.
The units include an input EMI filter and active reverse polarity protection. User specified under voltage lockout is included. Outputs include high attenuation ripple and common mode spike filtering. The *3696 converters are constructed with an optimum mixture of hermetic hybrid control circuits and high reliability surface mount components, offering a construction that is suitable for the most demanding space applications, while providing reliable conduction cooled thermal paths for all components. Unit features include...
MDI Proton RadHard 100K+® Technology:

Proton resistant RF I/O Isolation: no optical devices used
Over 100kRad Si TID, 200kRad tested
SEE/SEU Immune: LET>82MeV*cm2mg tested

Ultra-Low Vf Input Reverse Polarity Protection:

Protects against input misconnections or unanticipated polarity reversal of any duration
Clampless design eliminates need for external diodes or fuses

Input Undervoltage Lockout:

User programmable UV lock with hysteresis to shut operation at line inputs under selected limit

Sync Input:

Synchronizes up to user programmed frequency

Inhibit Not Input:

Shut operation by grounding Inh Not port; very low quiescent current (μA)

Remote Sense:

Auto adjusts output voltage for load lead losses

Output Adjust:

User programmable to increase/decrease output voltage setpoint

Output Soft Start:

User programmable output turn-on delay/ramp

Full Load Range Voltage Regulation:

Regulates down to zero applied load

Dual Mode Overcurrent/Short Circuit Protection:

Current mode control pulse by pulse and cyclic mode overcurrent protection

Internal Overvoltage Protection:

Overvoltage protected for internal (open control loop) fault

Built-In EMI filters:

Input filter for 461C CE03, output filtering smooths ripple and attenuates noise spikes

All Conduction Cooled Design:

Efficient thermal management in vacuum environments

Hybrid and SMT Components:

Space heritage hybrid and SMT component selection for reliability

Integral I/O bus rails interface:

Reliable low loss input and output power connections

Compact size, light weight:

5x8x1.5 LWH Inches including connecting rails and thermal interface heatsink—less that 3.5 lbs