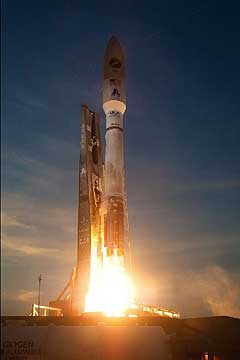 United Launch Alliance successfully launched the U.S. military's X-37B, a prototype space plane also called the Orbital Test Vehicle (OTV) from the Space Launch Complex-41 at Cape Canaveral Air Force Station, Florida.
The Atlas V will fly in the
501 vehicle configuration with a five meter fairing
, no solid rocket boosters and a single-engine
Centaru
upper stage.
X-37B OTV-1 (Orbital Test Vehicle 1) is an American unmanned spacecraft, in what is the maiden flight of the Boeing X-37B.
It was originally scheduled for launch in the payload bay of a
Space Shuttle
, however following the
Columbia accident
, it was transferred to a
Delta II 7920
. It was subsequently transferred to the Atlas V following concerns over the spacecraft's aerodynamic properties during launch.
This is the
21st Atlas V launch in program history
. This space mission has
much secrecy associated with it, including the unpiloted military space plane
. The spacecraft will be placed into
low Earth orbit
for testing, then it will be de-orbited for landing.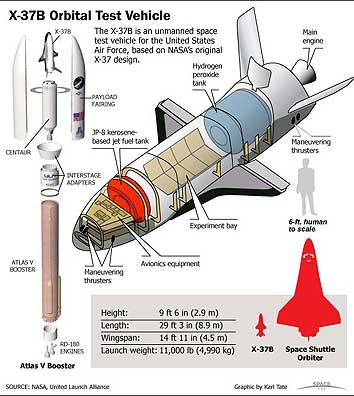 While the launch took place in
Florida
, the landing is to occur on a runway at
Vandenberg Air Force Base, California with Edwards Air Force Bas
e as the alternate site. The duration of the mission has not been announced, although an Air Force spokesperson has said the vehicle has a requirement to be
on-orbit for up to 270 days
.
In 1999, NASA selected Boeing Integrated Defense Systems to design and develop the vehicle, which was built by the California branch of
Boeing's Phantom Works
.
The X-37 was transferred from NASA to the Defense Advanced Research Projects Agency on September 13, 2004.
The program has become a classified project, though it is not known whether DARPA will maintain this status for the project
.
NASA's spaceflight program may be centered around the
Crew Exploration Vehicle, while DARPA will promote the X-37 as part of the independent space policy which the Department of Defense has pursued since the Challenger disaster.
This vehicle has the potential to become
United States' first operational military spaceplane, after the cancellation of Dyna-Soar in 1963
. It is expected to operate in a velocity range of up to
Mach 25
.