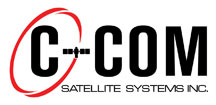 Using the latest mobility interface that's based on the widely accepted OpenAMIP protocol, C-COM Satellite Systems Inc. (TSXV: CMI) iNetVu® antenna 7710 controller has now been successfully integrated into Gilat's SkyEdge II-c VSATs.

The integration tests over satellite were completed using Gilat's SkyEdge II-c hub operating in Europe. SkyEdge II-c Capricorn high-performance VSATs are part of the one-platform/multiple-application X-Architecture VSAT platform that's capable of supporting speeds per site of 200 Mbps for mobility, high-end enterprise and for true LTE/4G backhauling via satellite. The C-COM antenna controller unit with upgraded software compatible with the Gilat Capricorn modems is available immediately.
Drew Klein, the Director of International Business Development for C-COM Satellite Systems, Inc., reported that as the availability of HTS Ka- and Ku-band satellite capacity continues to expand and experience growth around the globe, his company expects to experience significant demand for this advanced VSAT.
Adding his thoughts was Amir Yafe, Director of Product Management at Gilat, who relayed that C-COM designed their Capricorn VSATs to be interoperable with on-the-pause/on-the-move antenna systems that will enable their customers to use the SkyEdge II-c VSAT platform for emergency response, public safety, disaster recovery, and any other implementation requiring quick deploy operations. Capricorn VSATs and C-COM antenna systems will be deployed initially by several mobile network operators for large LTE networks in Europe and Asia.iNetVu® is a registered trademark of C-COM Satellite Systems Inc.