[SatNews] Reach for the skies, change is in the air and soon in Hong Kong.
Reach for the skies, this Friday will close the opportunity to purchase regular rates, for the upcoming CASBAA Convention 2013 October 21-24 in Hong Kong, People's Republic of China at the Grand Hyatt. The hotel is offering special delegate room rates to attendees. Register here. Regular rates end Friday, October 11.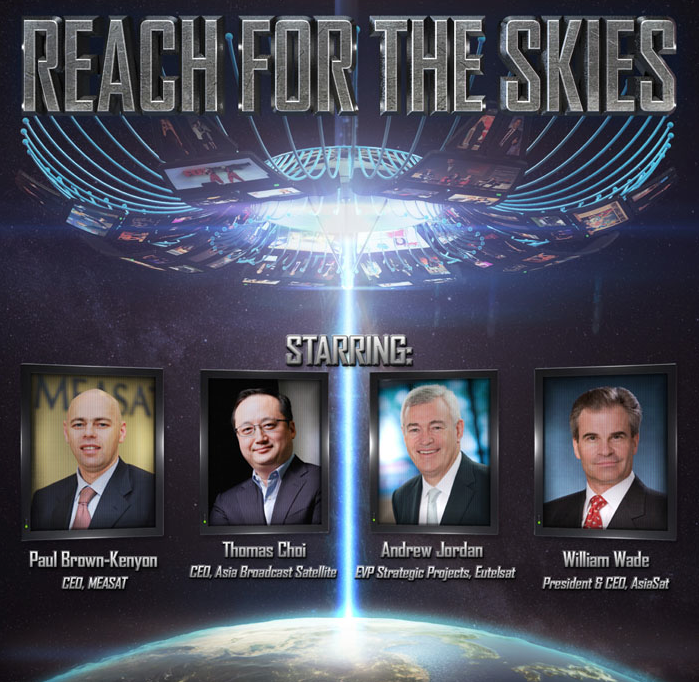 Content delivery in Asia has always been a competitive sector chiefly dependent on satellite C-band frequencies. New challenges are emerging with the ITU considering opening C-band for use by mobile devices. Hundreds of millions of Asian households will have no realistic alternative for their TV supply...so what can de done to preserve this vital and irreplaceable link from content generation to customers?
Special starring speakers include Paul Brown-Kenyon, CEO of MEASAT; Thomas Choi, CEO of Asia Broadcast Satellite; Andres Jordan, EVP Strategic Projects, Eutelsat; William Wade President & CEO, AsiaSat; and Host is Gregg Daffner, CEO of GapSat. There are many more speakers and panels, but these are examples of the level of expertise of those sharing their ideas and opinions.
For more information contact Kenneth Wong +852-3929-1714 or Kenneth@casbaa.com and here.
"We are excited about the caliber of guests we have lined-up for the Convention this year," said Christopher Slaughter, CEO, CASBAA. "Representing the full value chain of the broadcasting industry not only in Asia but across the world, our roster of speakers will lend their considerable expertise to a comprehensive schedule of panel discussions over the three days of the Convention."
Appearing at this year's Convention will be a select group of internationally renowned leaders and experts across a variety of industries – all with a stake in multichannel TV around the globe – including:
John Tsang Chun-wah, Financial Secretary, Government of Hong Kong SAR
Sam Branson, Founder & Chairman, Sundog Pictures
Jeremy Carr, VP, Entertainment, Digital & Advertising Sales Asia Pacific, Turner International
Derek Chang, MD Asia, Scripps Networks
Simeon Dawes, SVP, Advertising Sales & Partnerships, FOX One Stop Media
Arjan Hoekstra, President, Discovery Networks Asia
Kar-Tai Koh, Global Brand Manager, Shell Advance Motorcycle
Brian Lau, VP, Programming, STAR Movies, FOX International Channels
Ravi Mansulkhani, CEO, IMCL
Charlie Muirhead, CEO & Founder, Rightster
Jean-Briac (JB) Perrette, Chief Digital Officer, Discovery Communications
Jim Ribbans, Executive Producer, Original Content, FOX International Channels
Mike Rich, CEO, Content (APAC), GroupM
Uday Shankar, CEO, STAR India; Chairman, FICCI Entertainment Committee
Bertram Van Munster, Co-Director, Asia, activeTV
Johnny Webb, Partner, Sundog Pictures
Courtney Williams, MD, Business Development and Strategy, Asia Pacific, AMC/Sundance Channel Global
Anthony Zameczkowski, Head of Music, YouTube APAC