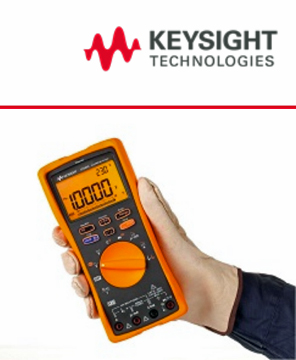 Temperature measurement is a key part of an engineer or technician's job in an electronic setting.
However, in addition to characterizing designs with thermocouple wired into a DAQ system, such as the Keysight 34970A/34972A data logger switch unit, you can also use a handheld. Handhelds provide convenience in terms of portability, ease of setup, and compactness. Keysight's comprehensive handheld solutions simplify identifying hot spots, verifying temperature sensors, and monitoring long-term temperature readings. Read Keysight's application notes to learn how to make quick, accurate, and effective temperature measurements—they explain how Keysight handheld test tools add value to temperature measurement tasks.
"Verifying the Operation of Temperature-Controlled Ovens"—Learn how to use handheld measurement tools to maintain and verify the functionality of ovens deployed in an electronics factory.
"Analyzing and Trending Battery Charging Temperature Rise Using an IR Thermal Imager and Handheld DMM"—See how the U5850 series TrueIR thermal imagers and contact-type temperature measurement solutions work together to effectively analyze charging temperature rise.
"Quickly Identify and Characterize Thermal Measurement Points"—Temperature monitoring traditionally involves a fair amount of guess work. Learn how a thermal imaging camera can help you quickly and easily identify temperature problem areas.