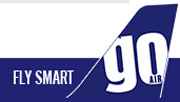 [Satnews] India-based GoAir will feature Rockwell Collins' advanced avionics, including MultiScan™ ThreatTrack weather radar and GLU-925 Multi-Mode Receiver (MMR), on 72 Airbus A320neo aircraft—deliveries will start later this year.
MultiScan ThreatTrack goes beyond hail and lightning prediction within a thunderstorm cell and alerts pilots to these significant threats adjacent to or above the cell. In addition, the new radar is the first in the industry to feature two levels of turbulence detection—severe and ride quality—which more accurately informs flight crews of the type of turbulence in their path.
Unique to MultiScan ThreatTrack is its patented Predictive Overflight™ Protection, which tracks thunderstorm cells ahead and below the aircraft, measures growth rate, predicts bow-wave turbulence and indicates potential threats in the aircraft's flight path.
Rockwell Collins' GLU-925 MMR is the first certified GPS Landing System receiver and enables high-integrity navigation, including RNP AR, Category III ILS and Category I Global Positioning Landing System approaches. The MMR also enables GPS position and availability requirements for ADS-B Out mandates.
In addition to ThreatTrack and MMR, GoAir selected Rockwell Collins' ADF-900 Automatic Direction Finder, DME-2100 Distance Measuring Equipment, VHF-2100 Transceiver, HFS-900D Radio, and VOR-900 Omnidirectional Radio.
"The advanced, reliable avionics systems selected by GoAir will translate into safe, smooth rides for passengers," said Jim Walker, vice president and managing director, Asia Pacific for Rockwell Collins. "In addition, these flight deck technologies are especially important in regions without robust ground-based navigation or weather radar networks."