Satellite backhaul, long considered as delivering insufficient performance or as being too expensive to be widely adopted, has stepped up to become a capable and economical solution, changing the game for LTE backhaul.
This webinar from Gilat challenges some of the satellite-backhaul myths and preconceptions, highlights its current performance characteristics, and gives implementation examples of recent tier-1 operators. These use cases will demonstrate the viability of satellite and show that it is often the preferred choice for various applications of 3G and LTE mobile backhaul — not just the last option when terrestrial solutions are not feasible.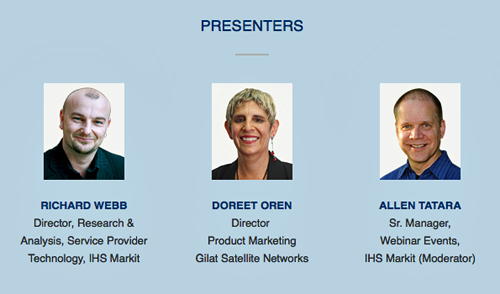 Who should considering attending this webinar...
Mobile Network Operators, Fixed Line Operators, Transmission or Transport Networks and Services professionals, Financial/Equity Analysts and Industry Media.
Key Topics for Discussion
Dispelling myths around satellite backhaul performance: LTE speeds & latency
Satellite connectivity cost breakthrough: capacity and bandwidth sharing
Addressing complexity: the satellite backhaul business model
Use Cases:
Remote region connectivity
Rural region connectivity
Network resilience and back-up
Metro edge connectivity
Managed services
Audience questions will be answered during the webinar...

The webinar will be held on...
Date: Wednesday, November 8, 2017
Time: 8:00 am PT / 11:00 am ET / 15:00 UTC
Duration: 45 min + Q&A
To attend this informative webinar, please register via this direct link...