[SatNews] Cinegy has announced that the first 1,000 visitors to its booth SL11116 at the NAB Show 2014 will receive a free Cinegy Player License.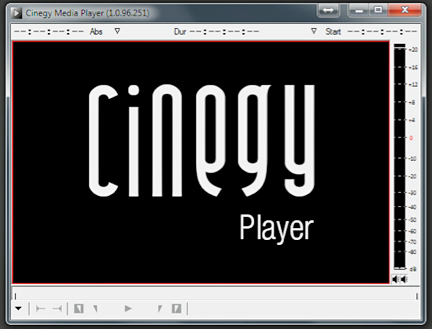 Cinegy Player is a new tool for broadcast professionals that demand outstanding quality, precision and playback performance while working with high-end video formats. Cinegy Player includes native support for most broadcast industry standard video codecs within the two most common containers – MOV and MXF. Now included is support for decoding and displaying VANC and Parental Rating values from SMPTE 436M tracks, as well as complete decoding and display of line 608 and 708 closed captions—perfect for professional QA. To claim your free Cinegy Player license (valued at $129) visit Cinegy on booth SL11116 at the NAB Show 2014.
Cinegy Player supports a wide range of file formats:
AVI - Uncompressed or compressed AVI playback depending on machine-local installed AVI codecs
MXF - OP-Atom (e.g. Panasonic P2) or OP1A (e.g. XDCAM) with specific Application Specification (AS) support for AS- 03 (MXF for delivery) and AS-11 (MXF for contribution) as adopted by the Digital Production Partnership in the UK (http://www.digitalproductionpartnership.co.uk/technical-standards/).
MXF playback supports the following codecs: AVC-Intra 50/100, DV, DVCPro50, DVCProHD, generic H.264, generic MPEG2 long GOP or I-Frame, IMX30/40/50, Sony XDCAM , XDCAM EX, XDCAM HD, XDCAMHD422, etc.
MOV (without the free Apple QuickTime components installed)*
AVC-Intra 50/100, DV, DVCPro50, DVCProHD, generic H.264, IMX30/40/50, XDCAMHD422
MP4 - MP4 files with generic H.264 inside
MPEG2 - MPEG2 Program Streams (PS)
Sony XAVC 4K and UHD 2160p MXF files
At NAB, Cinegy will be exhibiting on booth SL 11116, the following products:
SDI MUST DIE – 4K IP-Based Broadcast Solutions; Cinegy Multiviewer, Cinegy Route and Cinegy Stream Switcher: Learn about the operational and cost benefits of Cinegy's 4K IP Based Broadcast Solutions
WELL PLAYED - Automation, Playout and CG solutions; Cinegy Air PRO, Cinegy Studio PRO and Cinegy Type: As the most innovative playout solution on the market Cinegy Air PRO redefines how playout is done. Learn how Cinegy Air PRO has you covered – whether it's scheduled, studio or news playout in IP, HD or 4K
TREASURE - Media Asset Management and Archive solutions; Cinegy Archive and Cinegy Desktop: Whether you are in news, drama or reality or just need an enterprise repository – you will learn all of the benefits Cinegy Archive can bring to your organization.
A preview of Cinegy's version 10 software, launching in summer 2014.
The CInergy infosite is accessible at http://www.cinegy.com/