[Satnews] The Ariane 5 and the next-generation Ariane 6 launch vehicles will be appearing in Times Square as part of the Best of France event.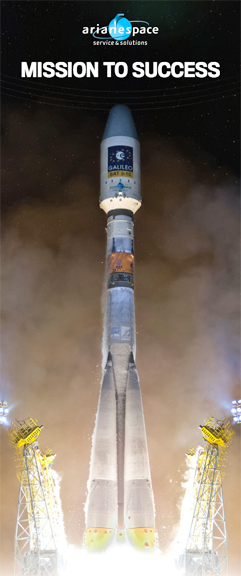 Visit the Arianespace booth, which will showcase the best of French and European technologies through impressive launch videos and lifelike models of the Ariane 5 and Ariane 6. Arianespace's objective is to use space to make people's lives better, safer and easier on Earth. The company's launch services are recognized for their reliability, with more than 500 satellites orbited since the founding of Arianespace in 1980—including more than half of all telecommunications satellites now in service.
Arianespace launches all types of satellites for commercial and institutional customers, providing telecom, navigation, Earth observation, weather forecasting and many other services. Customers include companies and government agencies from around the world: 90 percent of sales, on average, are generated in export markets, outside France. Arianespace's backlog of launch orders is now worth a record 5.4 billion euros.
Arianespace is based in Evry, in the greater Paris area. Supported by 20 shareholders from ten European countries and the European Space Agency (ESA), Arianespace is the only launch service provider in the world capable of launching all types of satellites to all orbits, from the Guiana Space Center in Kourou, French Guiana (South America). Operating a family of three launch vehicles (Ariane, Soyuz and Vega) Arianespace has carried out more than 250 launches to date, including 67 successful launches in a row by the Ariane 5 heavy launcher.
Arianespace has already orbited more than 150 satellites for American operators and will provide launch services for 70 percent of the commercial satellites on order for American operators. In addition, 170 satellites already orbited by Arianespace were built by American manufacturers.
Executive Comment
"Everybody at Arianespace is extremely proud that our company is representing the technological excellence of the French and European space industries in the prestigious setting of Times Square," said Stéphane Israël, Chairman and CEO of Arianespace. "Our relationship with the United States reaches back to the founding of our company, and year after year the leading American manufacturers and operators continue to entrust us with their satellites."