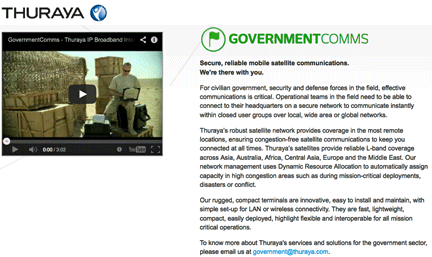 [SatNews] Solutions from Thuraya Telecommunications Company, a leading Mobile Satellite Services (MSS) operator, have been selected by Badan SAR Nasional, which is the National Search and Rescue Agency for the Republic of Indonesia to improve its search and rescue efforts in the country.
The government agency will be installing a combination of Thuraya IP terminals, the Thuraya Integrated Communications Solution from Ultra Electronics - AEP and Thuraya NettedComms from Speakerbus to integrate its headquarters' capabilities with all branch offices, ships, portable units and land mobile units. This will enhance voice and data services as well as video surveillance and interoperability on crucial operations at sea. The Agency is comprised of the National Search and Rescue Center, Rescue Coordination Centers and Rescue Coordination sub-division.
The contract for the initial phase has been awarded to Thuraya's Service Partner, PT Mega Sarana Satelit of Indonesia, and is scheduled for completion over 2014.
Additional information regarding Thuraya's Government Communications services are available at this infopage link.