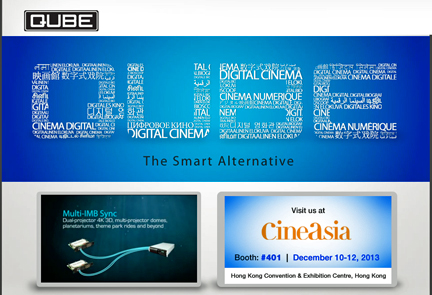 [SatNews] Qube Cinema has sold its digital cinema servers and DCP mastering software to Cinecolor post production facilities in five Latin American countries.
Each of the Cinecolor post houses—in Argentina, Chile, Brazil, Mexico and Columbia—now has a Qube XP-D server in its screening room for QC of its DCPs. Cinecolor Argentina and Columbia also use QubeMaster Pro for mastering DCPs. The DCP mastering and QC equipment enable Cinecolor to meet the growing demand for digital cinema post production services in Latin America.
With a long history in film processing expertise behind them, Cinecolor, owned by Grupo ChileFilms, has surged into the digital cinema post production market. Cinecolor Argentina, located in Palermo Hollywood, Buenos Aires, was the first company in Argentina to offer digital transfers from 35 mm film. It covers all the stages of post production in one spot.
Cinecolor is the oldest post production company in Argentina, and the biggest, handling negative development to make prints, offline editing, conforming, scanning and recording, VFX, color grading at 2K on a big screen and finishing in all formats for TV and feature film: 35 mm, HD and DCPs. It boasts the most experienced colorists in the region, from film and digital. The Qube Cinema XP-D servers and QubeMaster Pro enable the creation of d-cinema distribution masters (DCDMs) and DCPs for Cinecolor's advertising and film work, following SMPTE guidelines. In addition to the studio in Argentina, Cinecolor has post houses in Brazil, Chile, Columbia and Mexico, all providing post services for the TV, advertising and film markets. There is a high level of cooperation between Cinecolor facilities.
Cinecolor Chile has a film lab as well as teleport for satellite transmission of digital content to the region. Operated as Cinecolor Sat, the satellite network is set up to distribute DCPs of feature films, trailers and ads directly to cinemas. There is a plan to install a fiber connection between Chile and Los Angeles, where most of the content originates. One decoder on the antenna is dedicated to transmitting DCPs. Another decoder enables distribution of live alternative content and ads to theaters. This should come in handy for the upcoming World Cup next year and the 2016 summer Olympics, both of which are being held in Brazil.