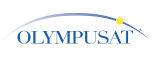 One of the largest independent media companies specializing in the ownership, distribution, production and technical services of Spanish and English-language networks is moving to a new satellite.
Olympusat, Inc., made this announcement as they began the process of moving its network program services to satellite SES-1at 101 Degrees West on November 30, 2017.

At the moment Olympusat transmits 35 HD and SD Television networks over Transponders 19 and 20 on the Intelsat Galaxy 23 at 121 Degrees West (G-23). Intelsat which operates G-23 will, over time, be changing that satellite to a "Back-Up" satellite, thus making it no longer available for Olympusat's transponders.
Olympusat started a "Dual Illumination" period to both G-23 and SES-1 transponders in early September 2017. This Dual Illumination period will end on November 30th, 2017. Therefore, all downlink sites must make this satellite change before November 30, 2017 in order to receive the Olympusat's network program services.
There will be no changes necessary with respect to the equipment/IRD/satellite receivers that operators are currently utilizing to downlink Olympusat's network program services. The operations team will only need to adjust the satellite and transponder/frequency and some specific "Transcoding IRDs" may need to be re-authorized.
The following network are effected by the transition from G23 to SES-1: TOKU HD, SONLIFE HD, COWBOY CHANNEL HD, RFD HD, CUBA PLAY SD, ONTV 4 U (National Sat Feed), CRTV (DIRECTV feed), LIQUIDATION CHANNEL SD, CRTV/WOW (VERIZON & FRONTIER FIOS ONLY), LOVE WORLD, GRAN CINE SD, SORPRESA SD, ULTRA FAMILIA SD, ENLACE SD, TV CHILE SD, ALTAVISION SD, CINE MEXICANO SD, TELE N SD, TOKU SD, UPLIFTV, BYU (BRIGHAM YOUNG UNIVERSITY), G04IT SHOPPING (VERIZON & FRONTIER FIOS ONLY), DAYSTAR TELEVISION NETWORK, COWBOY CHANNEL SD, TBN SD, HILLSONG CHANNEL SD, JUCE, SMILE OF A CHILD, SONLIFE SD, UPLIFTV (DIRECTV ONLY), GOD TV, EWTN and UNTAMED SPORTS.