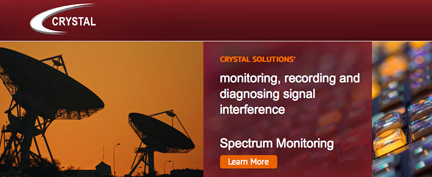 [SatNews] Crystal Solutions, a provider of Network Management and Intelligent Control™ Solutions, will launch its Carrier ID (CID) Detection System at Satellite 2014.

The Crystal Solutions CID Detection System enables uplinkers to verify they have the correct ID allocated to their carrier. It will also interface with the new CID database currently being built, which will be managed by the Space Data Association (SDA). This system can also enable satellite operators and satellite access centers to automatically extract detected IDs and populate the SDA database.

Roger Franklin, CEO, Crystal Solutions, said, "This system will provide the needed pieces for CID detection and validation, helping the industry combat satellite interference."

Crystal Solutions will be providing a live demonstration at Satellite 2014 on its booth #8064, using hardware from Comtech EF Data, Ericsson. ETL Systems, and Newtec. The company will also be featured as part of a Carrier ID Tour being organized by the Satellite Interference Reduction Group (IRG).

Roger Franklin, CEO, Crystal Solutions, will be joining a panel to discuss the latest state of satellite interference management, the impact of Carrier ID and where the industry goes next. The panel takes place on Tuesday, March 11th at 3:00 p.m. in room 209AB.
The Crystal Solutions infosite is located at http://www.crystalcc.com/