Talented folk from Boeing, SpaceX and Virgin Galactic merged their expertise and founded Arizona-based Vector, a satellite launch startup... and their work has now led to the company's Vector-R rocket making its first successful flight.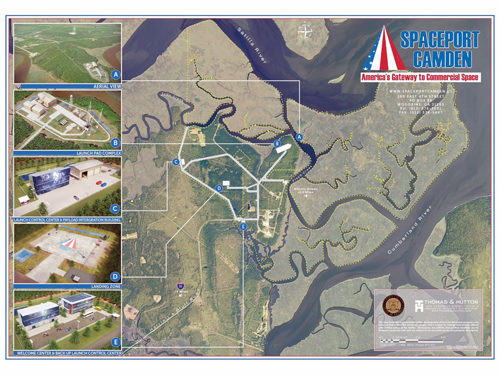 The launch is also a first from Georgia's Spaceport Camden. In the 1960's, this site was a NASA static test fire site for solid state rockets and was then repurposed by Vector for their launch purposes. The company's goal is to become a viable launch provider and this flight certainly illustrates success as the firm continues to progress toward their objectives, one being to become a platform for commercial payloads as well as to lower the cost of such efforts.
Aboard the Vector-R were also test packages from companies Astro Digital, the Center for Applied Space Technology and NASA's Ames Research Center. Also of interest is that this test flight included a demo of a 3D-manufactured injector for the rocket's engine, developed by the company in partnership with NASA's Marshall Space Flight Center.
Launch capabilities for smallsats that are reasonable as far as cost is concerned and enabling developers to build apps for space using an API through software-defined satellites are all part of Vector's mission.
Orbital launch capabilities are expected to become available next year for around $3 million. The firm recently managed to garner Series A financing to the tune of $21 million, which was led by Sequoia Capital.
As of now, Vector states the company is on track to achieve their target of achieving orbital launch capabilities by next year — this test flight is highly encouraging as also included in the mission was a demo of a 3D-manufactured engine injector ,which was developed in partnership with NASA's Marshall Space Flight Center, and which will help it achieve its low cost launch goals.
Vector's whole mission is to offer both dedicated, low-cost launch capabilities for small satellites as well as to field software defined satellites. The latter means developers won't have to get into the core work of design, assembly of components, overall manufacture and the launching to orbit of their smallsats... all can be accomplished via an API to create software defined satellites.
Additionally, last month the company named Alex Rodriguez as the firm's new Vice President of Government and External Affairs. He will be leading all facets of external relations with Government partners during a time of accelerated company growth. He joins Vector from the Arizona Technology Council where he served as Vice President and led the Arizona Aerospace, Aviation and Defense CEO Network.
As Vice President of Government and External Affairs, Alex brings more than two decades of experience in business development, government affairs, and strategic planning to Vector. Alex has held leadership roles in three Fortune 500 companies including Raytheon, where he led a half billion dollars spend portfolio in supply chain management. A former Term Member of the New York based Council on Foreign Relations, Alex served as a U.S. Department of Defense International Policy Advisor, Country Director and Special Assistant at the Pentagon, entering federal service by appointment as a Presidential Management Fellow.
Alex served as a Captain in the U.S. Army for a tour-of-duty in support of Operation Joint Forge, the U.S. Peacekeeping Mission in Bosnia & Herzegovina. He holds a Master's Degree in Public Policy from Harvard University's John F. Kennedy School of Government. Alex's unique expertise makes him a perfect fit for Vector.