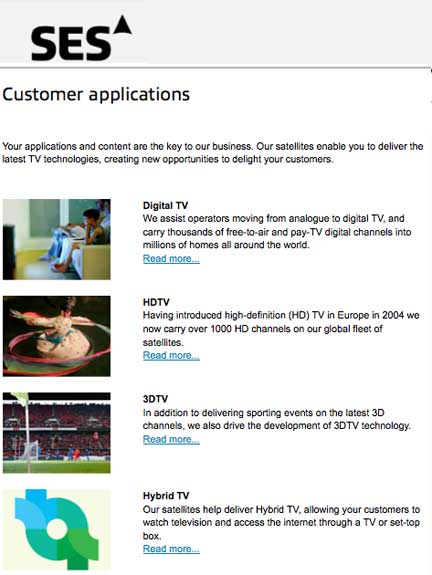 [SatNews] According to an SES media briefing in Singapore at the CommunicAsia2012 event, the Company leads the market...
...in Asia-Pacific in meeting the increasing popularity of direct-to-home (DTH) satellite television across the region. Following a sustained period of investment in incremental satellite capacity in Asia-Pacific over the last decade, SES is now the leading satellite operator carrying the most number of DTH channels in the region, with approximately 700 DTH channels. It also reaches 20 million payTV homes in the region via DTH or one in three DTH subscribers in Asia, more than any other satellite operator.
SES also announced that it had signed a new multi-year agreement with one of its largest customers in the Philippines, MediaScape Inc., to provide additional capacity on the SES-7 satellite. The additional satellite capacity will initially enable MediaScape to ramp up Cignal TV's DTH offering to 15 HD)channels and 51 SD channels, up from 9 HD channels and 37 SD channels in 2011. Cignal, the largest and fastest growing satellite TV provider in the Philippines, currently serves more than 250,000 subscribers across the country.
SES is participating at CommunicAsia2012 (hall C, level 1) and CommunicAsia2012 Summit at Marina Bay Sands Expo and Convention Centre, Singapore. Booth highlights include demonstrations of an Ultra High-Definition (4K HD) screen as well as a 3D screen.