Ten new Israeli-made unmanned aerial vehicles (UAVs) will debut in Afghanistan in the coming weeks, after the Israel Aerospace Industries made the first delivery of the Heron UAV to the Royal Australian Air Force (RAAF) on Thursday.
Under the $91-million lease, the RAAF will receive 10
Heron
UAVs, mission payloads,
Automatic Ground Control Stations
as well as spare parts.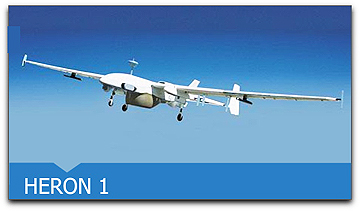 Canadian company
MacDonald, Dettwiler and Associates
(MDA) already provides maintenance for the
Canadian Air Force
— which operates Herons in Afghanistan — and will support the RAAF mission as well. The Heron was also recently leased to the German military and last month the Brazilian government announced that it was prepared to sign a $350-million deal to purchase Heron UAVs to patrol its cities and borders, and provide security for the
2014 World Cup
and
2016 Olympic Games
.
The first UAV was delivered to the RAAF during a ceremony at the
Ein Shemer
landing strip in the North attended by the Canadian military attaché, Col.
Geordie Elms
, the Australian military attaché, Col.
Wayne Fleming
, and representatives from the
Ministry of Defense
,
MDA
and
Israel Aerospace Industries
. The RAAF selected the Heron from among a number of competitors after it successfully completed a series of tests of its intelligence, surveillance and reconnaissance capabilities. Under the deal, the Heron will begin operations in early 2010 for one year, with an option for an additional two years. The RAAF expects the Heron to significantly increase its operational capabilities in the war in Afghanistan. The Heron is a Medium Altitude Long Endurance UAV that can remain airborne for over 30 hours with a cruising altitude of 30,000 feet and carry a payload of 250 kg. It has a wingspan of 16.6 meters, a takeoff weight of 1,200 kg, an operational range of several hundred kilometers, an automatic takeoff and landing system and according to IAI, is well suited to the challenging climate and conditions of Afghanistan.