The Advanced Television infosite is reporting that Surrey Satellite Technology (SSTL), based in Guildford, UK, has unveiled their portion of Eutelsat's highly versatile 'Quantum' satellite.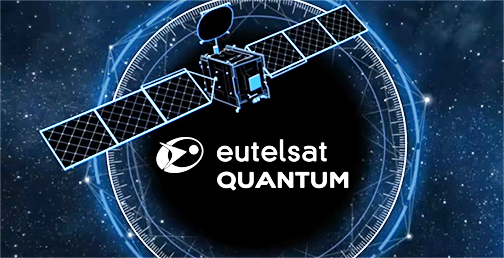 The satellite is being built under a public–private partnership between the European Space Agency (ESA) and the satellite operator Eutelsat, with Airbus as the prime contractor. The satellite platform, which has been designed and manufactured by SSTL, was on view to invited guests at a special event to mark the handover to Airbus who will complete the satellite assembly and testing in Toulouse.
The craft will now be shipped back to Toulouse for the final stages in its assembly prior to launch later this year. It is expected to be on station — to a yet-unspecified orbital position — in Q1 2020. Quantum uses chemical propulsion and thereby ensures a speedy journey to orbit.
The Quantum platform consists of a precision-engineered composite central thrust tube standing at 2.5 meters tall, which houses a bi-propellant chemical propulsion system that will enable the satellite to stay on station throughout its 15 year lifetime, and SSTL's newly developed GEO momentum wheels and gyro which will maintain the satellite in a stable attitude and enable adjustments in the satellite's orbital position.
The flexibility built into Quantum allows for variable regional coverage, power output, spectrum usage and regional capacity, and each element can be optimized in orbit and subsequently changed to suit market demands.
This is the first SSTL commercial, geostationary satellite. The UK's investment in the craft (from the UK's Space Agency) comes in at 72 million euros plus another 8 million euros from the European Space Agency. Arianespace will launch the craft on an Ariane 5 rocket.
Executive Comment
Sarah Parker, Managing Director of SSTL, said the completion of the company's work on the Eutelsat Quantum satellite platform is an important milestone for SSTL, as this represents the firm's first venture into the global commercial telecoms satellite market. The design and assembly of this innovative spacecraft has enabled us to advance the knowledge and skills required to develop highly capable satellite products for the evolving telecoms market, where we are actively engaged in seeking new opportunities.
Yohann Leroy, Deputy CEO and CTO at Eutelsat, described the extremely flexible satellite as transitional for Eutelsat and added that it is a world first and the culmination of many years of research by Eutelsat. The satellite's premium capacity will enable the company to offer game-changing services and flexibility to Eutelsat customers in the government, mobility and data markets, who will be able to operate and optimize capacity to adjust coverages in real time, and to do so autonomously. Eutelsat is delighted to co-operate with the firm's long-standing partners, the ESA, the UK Space Agency and Airbus, and to be able to rely on the world-leading expertise within the UK space industry.