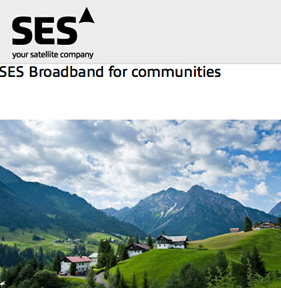 [SatNews] SES Broadband Services is to partner with content platform developer Kiora on a content distribution and connectivity platform in Sub-Saharan Africa.
This platform is to enable a highly cost effective delivery of content and Internet access through a network of Wi-Fi Content Hotspots planned to be located at retail outlets and in public spaces. The solution combines Kiora's end-to-end service platform for the delivery of media content via Wi-Fi Content Hotspots and the SES Broadband satellite network, used for Point-to-Multipoint backhauling and end-to-end managed Internet access.

Patrick Biewer, Managing Director of SES Broadband Services, said, "The predominance of smart phones and tablets in the Sub-Saharan market is driving more and more users to watch content, creating a surge in the consumption of on-demand media and a need to be connected to the Internet anytime, anywhere. Costly Point-to-Point backhauling and a lack of terrestrial connectivity remains a problem that prevents devices from obtaining content. With this new solution we aim to solve the bottleneck."

Prasad Sanagavarapu, CEO Kiora Inc., said, "Kiora is a content distribution platform specifically designed for emerging markets, providing a mobile data offloading solution for premium video. The platform provides a cheaper alternative to users than traditional mobile content delivery networks. We are very excited about the partnership with SES Broadband Services, whereby we will create a compelling offering for service providers in these markets to address the large and growing mobile user base. We are pleased to be bringing much needed satellite Internet connectivity and a mobile content delivery platform together as one bundle."

SES Broadband Services and Kiora will hold a seminar at IBC to discuss how satellite broadband is meeting on-demand television to change content distribution in Sub-Saharan Africa. The seminar will be held as part of SES IBC seminar sessions on Saturday, September 13th, 15.00 – 15.45 at the VIP Balcony Suite BM10/BM11 at the RAI in Amsterdam.
SES Broadband Services' infosite may be accessed at http://www.ses.com/10361494/SES-Boadband-for-communities