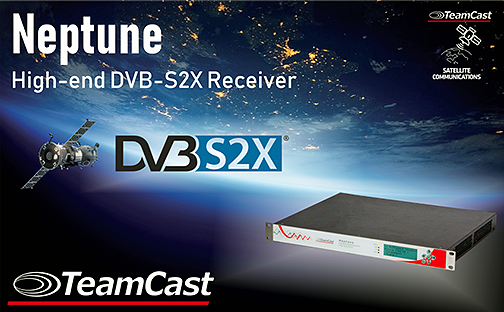 TeamCast has announced NEPTUNE, a new S2/S2X Satellite Receiver with advanced features for professional applications.
NEPTUNE is a 1RU DVB-S2X satellite demodulator that offers unprecedented support of all advanced DVB-S2X modes. Specifically, NEPTUNE can demodulate signals ranging from QPSK to 256 APSK and from 100 KB to 500 MB, offering high operational flexibility.
In terms of architecture, NEPTUNE has two separate RF inputs and two separate demodulators — this allows the unit to receive from two different satellite transponders and to offer robustness against signal loss. The demodulation stage is based on TeamCast's proven design and offers an ultra low implementation loss when compared to the theoretical calculations.
NEPTUNE offers eight ASI outputs and two Ethernet ports and supports MultiStream as well as both GSE and MPE encapsulation for efficient IP signal transmission.
NEPTUNE targets professional satellite applications where high performances and high reliability are required like High Capacity DSNG Contributions, DVB-T/T2 and DAB-EDI satellite distributions to terrestrial transmitters, OTT Satellite Contributions.