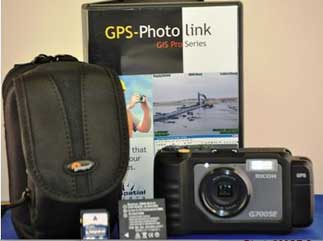 [SatNews] GeoSpatial Experts, developer of the first photo-mapping software package, has introduced three new GPS Camera bundles designed specifically for geotagging and mapping digital photographs.
The firm now offers GPS-Photo Link 5.0 photo-mapping software with the new Ricoh G700SE, Sony A55, and Casio EX-H20G GPS cameras.
"The introduction of high-quality GPS cameras from some the best known names in digital photography highlights the growing role that photo mapping is playing in mainstream business applications," said
GeoSpatial Experts President
Rick Bobbitt
.
Each of the GPS cameras includes a variety of features useful in geotagging and photo-mapping applications:
Ricoh G700SE
– In 2007, Ricoh introduced its 500SE model as the first GPS-equipped SLR designed for GIS data collection, and the new G700SE is more compact and offers many upgrades. Fully ruggedized and waterproof to five meters, the G700SE has 12.1 mega-pixel resolution, Bluetooth and WiFi, HD quality video, image stabilization, 5X optical and 4X digital zoom, and GPS/Compass module. Its data collection capacity includes 20 memo fields, each with 100 sub-categories.
Sony A55
– One of Sony's first Single Lens Translucent digital cameras, the A55 with built-in GPS offers a live view similar to compact cameras, but it also has full-time DSLR style phase-detection autofocus. In addition, the Sony A55 has a 16.2 mega-pixel sensor, three-inch articulated LCD, full HD video recording, and 3D Sweep Panorama Mode.
Casio EX-H20G
– Compact enough to fit in your pocket, the EX-H20G boasts a 24 mm wide-angle, 10X optical zoom, and 14.1 mega-pixel resolution. Casio calls it the 'works everywhere' camera because its Hybrid-GPS system continues to track the user's location inside a building with sensors when no GPS signals are available. And the EX-H20G is always ready to use thanks to continuous GPS signal tracking even when the camera is turned off.
"Used with GPS-Photo Link software, these new GPS cameras are so easy to operate that you don't have to be an expert in mapping or photography to accurately pinpoint your photo locations on a map," said Bobbitt.
GeoSpatial Experts first developed GPS-Photo Link in 2001, and it has become the industry standard software for digital photo mapping. Photo-mapping applications span the full spectrum of business users whose jobs require accurate photographic documentation of objects and features at a specific place and time. These applications include disaster response, infrastructure assessment, zoning, code inspection, asset management, engineering, land management, surveying, utility mapping and law enforcement.
The GPS-Photo Link 5.0 software enables photographers to accurately map the locations of photos taken either with a standard digital camera and separate hand-held GPS receiver, or with an integrated GPS camera like the ones offered in the bundles.
The software correlates each photo with its GPS coordinates and maps the photo to its accurate location either on a digital mapping web site such as Google Earth and Bing Maps or on a map layer in a GIS such as Esri ArcGIS.
The GPS-Photo Link software also comes bundled with the Ricoh 500SE, the Nikon D5000 and soon to be released Nikon D3100. The Nikon bundles include the Nikon GP-1 GPS unit mounted on the flash shoe.   
GeoSpatial Experts offers the GPS-Photo Link software in two editions. GPS-Photo Link Express is designed for avid photographers and business users who place photos on a web-based map or generate web pages and PDF reports from their photo archives. GPS-Photo Link: GIS Pro is for geospatial professionals mapping their photos in a true GIS environment such as Esri's ArcGIS.