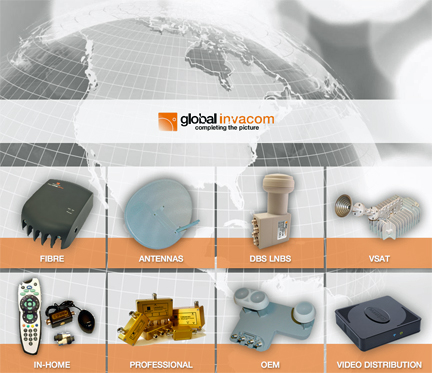 [SatNews] A breakthrough solution to extend the capability to distribute signals from a single C-band antenna to potentially more than 10,000 homes over optical fibre cable will make its debut at CommunicAsia 2015 ("CommunicAsia") from June 2-5 in Singapore.
The C-Band Fibre Integrated Reception System ("Fibre IRS"), developed and manufactured by Global Invacom Group Limited ("Global Invacom"), is an expansion of the current Ku-band offering so as to meet the needs of the Asian market. Unlike conventional coaxial cables which require a signal boost every 100 meters, the innovative C-Band Fibre IRS solution has an uninterrupted signal connection that can transmit up to 10 kilometers. Additionally, it can be installed, commissioned and maintained at minimal cost, yielding vast savings for installers, system integrators and operators. The C-Band Fibre IRS is the only solution that complements any existing standard C-band Low Noise Block and will be used extensively in Multiple-Dwelling Units and large villas.
The company will also showcase its revolutionary Romeo and Juliet ("R&J") chipset, which is available to other manufacturers who can then design and offer their own Fibre IRS based products. The R&J chipset is initially being deployed in the new Global Invacom SwitchBlade (a Fibre input MultiSwitch) and the MKIII GTU, with the latter providing at least 20 percent cost savings over existing fibre offerings due to the use of the new chipset. The products can be used globally and provide efficient ways of distributing multiple satellite TV channels to apartments and other such establishments.
Other products on display at CommunicAsia2015 include the tvLINK IP & tvLINK HD Coaxial System, which are ideally suited for venues such as sports bars and digital signage applications which need to manage multiple HD screens.