According to research and analysis firm, IHS Markit, the number of households in the Sub-Saharan African region grew 21.8 percent between 2010 and 2017, while TV households grew with a compound annual growth rate (CAGR) of 3.6 percent, during the same period.
Expectations of a potential media boom in Sub-Saharan Africa, caused by increasing GDP per-capita, should be tempered. Despite a 25 percent increase in disposable income over the past seven years, the growth of low-priced digital terrestrial television (DTT) services at the expense of incumbent DTT platforms has contributed to a significant decrease in the proportion of consumer entertainment spending.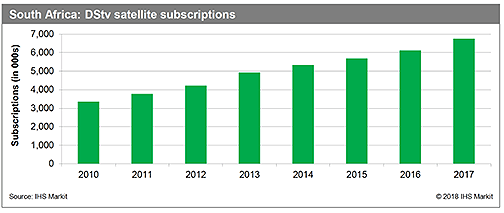 https://technology.ihs.com/603942/sub-saharan-africa-tv-and-online-video-2017
The Sub-Saharan African TV and online video market is full of hope and promise for the near future. Both markets are underdeveloped and, in the case of online video, at a very nascent stage of development. However, recent data from IHS Markit clearly points to strong growth.
PayTV growth is closely linked with the state of the economy, and particularly with the disposable income of families. According to IHS Markit, between 2010 and 2017, gross domestic product per-capita across Sub-Saharan Africa increased 19.1 percent, while the per-capita disposable income rose by 25.5 percent during the same seven-year period. Consumer spending on goods and services, a crucial factor for pay TV growth, has increased by 20.3 percent over the same period.
Online video in Sub-Saharan Africa has had a delayed and sluggish start compared to the rest of the world, and its impact continues to be minimal despite several service launches and expansions in recent years. The following limiting factors are chiefly hindering both the pay TV and online video industries:
A lack of infrastructure
Relatively high access costs
Volatile exchange rates
Diversity of audiences in terms of language
Stringent regulation

South Africa has the most subscriptions and the highest revenue in the region. In 1986, South Africa was the first country in Sub-Saharan Africa to launch a payTV service and remains the most lucrative payTV market in the region, with the largest number of subscriptions and highest revenue. It is also the most advanced in terms of technology, content offerings, business models and customer care.
Despite its advanced status within the region, the South African payTV market is the least competitive. In fact, one payTV operator, Naspers Multichoice, has dominated the sector for more than 30 years. Naspers' satellite service, DStv, controls more than 93 percent of the market, in terms of subscribers and revenue.
This report from IHS Markit provides a comprehensive description of the state of the payTV and the online subscription video markets in the Sub-Saharan African region. It includes data and analysis on the major payTV operators, subscribers and revenues, content strategies, partnerships and strategies for growth.