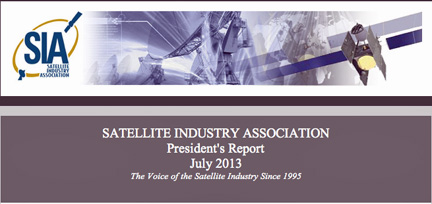 [SatNews] SIA has released its annual Annual State of the Satellite Industry Report, which shows that global satellite industry revenues grew by 7 percent in 2012, up from 6 percent growth in 2011. Globally, 2012 revenues for the satellite industry totaled $189.5 billion, up from $177.4 billion the previous year. All four industry sectors grew, led by satellite services, the traditional driver for the industry. Both satellite manufacturing and launch services saw significant revenue increases, and satellite ground equipment revenues also continued to expand. The full report is available here.
On July 8, SIA filed comments with the Departments of State and Commerce on their proposals to overhaul the export control regulations for satellites and related items. SIA supported the new regulatory proposals, and noted a number of proposals on which additional clarification would be useful. SIA also identified several proposed regulations where further adjustments would support both U.S. national security and the U.S. satellite industry.
On June 19, SIA filed comments with the Federal Communications Commission ("FCC") in response to a Notice of Proposed Rulemaking ("NPRM") on regulatory fees. SIA strongly supported the FCC's proposal to update its regulatory fees based on a more accurate assessment of the tasks performed by the Commission's staff, and the industries to which these tasks are most closely related.
On May 22, SIA filed comments with the FCC in response to an NPRM that would authorize Earth Stations Aboard Aircraft ("ESAA"), which provide in-flight broadband internet access to airline passengers, as an application of the Fixed Satellite Service ("FSS"). SIA applauded the Commission for making this proposal, which will provide certainty in the FSS market and will lead to greater investment in the growing in-flight broadband industry.
On May 10, SIA filed comments with the Office of the United States Trade Representative ("USTR") regarding the Transatlantic Trade and Investment Partnership ("TTIP"). SIA urged the USTR to make telecommunications services, including satellite services, an essential part of the trade negotiations to ensure that existing open market policies between the U.S. and the EU are reaffirmed and subtle barriers to trade in satellite services and technologies are carefully reexamined.
On May 3, 2013, SIA filed reply comments in Industry Canada's Spectrum License Transfer Proceeding. SIA requested clarification on whether revisions to the spectrum license transfer process would affect only terrestrial spectrum licenses or all spectrum licenses, including those used for satellite frequencies. SIA stated that it is not opposed to the former, but would not support the latter.
On May 2, 2013, SIA filed an Ex Parte Notice with the FCC regarding meetings on two issues: Qualcomm's proposed Ku-band system to provide broadband service for passenger aircraft and a petition by the NTIA to facilitate government earth stations' communications with commercial spacecraft. SIA reiterated its opposition to the Qualcomm petition, noting that its proposed system will cause interference to the fixed satellite services that are primary in that band. SIA also affirmed its support for the NTIA petition in the interest of promoting regulatory fairness between government and commercial earth stations.
For a list of all SIA filings, click here.
SIA's 2013 DoD COMMERCIAL SATCOM USERS' WORKSHOP will be from December 17th to 19th, 2013, at the Crystal Gateway Marriott, in Arlington, Virginia.