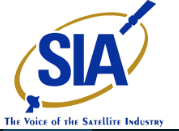 [SatNews] The Satellite Industry Association (SIA) today announced it is organizing a Congressional Satellite Industry Technology Demo and Exhibition, co-hosted by Rep. Jim Bridenstine (OK-1) and Rep. Doug Lamborn (CO-5).
Press and public are invited to join Members and Congressional staff to view the Exhibition in the First Floor Foyer of the Rayburn House Office Building on Wednesday, July 8th at 11:00 a.m. ET to 3:00 p.m. ET.
SIA Member Companies participating in the event include:
The DIRECTV Group
EchoStar Corporation and Hughes Network Systems
Glowlink Communications Technology, Inc.
Inmarsat, Inc.
Iridium Communications Inc.
Kratos Defense and Security Solutions
Northrop Grumman Corporation
O3b Limited
SES Americom Inc.
SSL
ViaSat, Inc.
"Whether delivering communications, imaging and remote sensing data, IP and television entertainment, navigation signals or life-saving critical voice and data links, the satellite industry impacts the lives of Americans in all walks of life," said Tom Stroup, President of SIA. "This event showcases our members' leading edge satellite-based solutions to regulators and policy makers. We would like to thank our congressional co-hosts for the opportunity to show what our industry does best."
SIA is a U.S.-based trade association providing worldwide representation of the leading satellite operators, service providers, manufacturers, launch services providers, and ground equipment suppliers. Since its creation almost twenty years ago, SIA has advocated for the unified voice of the U.S. satellite industry on policy, regulatory, and legislative issues affecting the satellite business. For more information, visit.