Expansion of a good thing is always welcome, and Anokiwave, Inc., announced a further expansion of its SATCOM beamformer IC family with the new Generation-2 Ku-Band set of ICs for the design and commercial deployment of phased array-based ground terminals.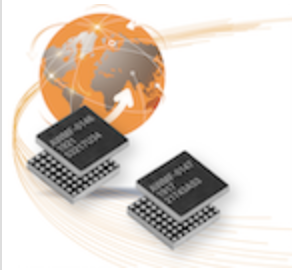 These new Ku-Band ICs enable active antenna based phased array SATCOM ground terminals that can auto-align and auto-position and support SATCOM-on-the-move using LEO/MEO/GEO satellites. The AWMF-0146 and AWMF-0147 will be available to the general market in Q3-2019.
The Ku-Band IC family builds on the first generation of beamformer ICs, and adds to the K-/Ka-band SATCOM ICs that were previously released. This new iteration improves performance, reduces cost, and provides a range of digital functionality that simplifies the active antenna array design. The highly integrated AWMF-0146 Rx IC and the AWMF-0147 Tx IC both support four dual polarization radiating elements with full polarization flexibility. Using a small WLCSP (Wafer Level Chip Scale Package) makes the overall phased array assembly and thermal management even easier.
Abhishek Kapoor, Anokiwave VP of Sales said that the new Ku-Band beamformer ICs in addition to their previously released K-/Ka-band Gen 2 ICs now offer options for both the key SATCOM bands for ground equipment, while ensures unmatched performance and low cost. With each generation Anokiwave improves performance and reduces cost of the ICs and they have done the same with these new Ku-band ICs. They are already receiving extremely positive feedback on these parts and enabling customers to develop phased array-based ground and avionics SATCOM equipment.