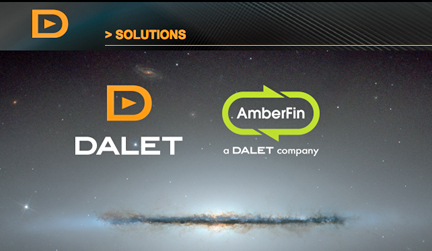 [SatNews] Dalet Digital Media Systems, a provider of Media Asset Management (MAM) solutions, software and services for broadcasters and content providers, has signed a definitive agreement with Advent Venture Partners to acquire AmberFin, the UK-based company that specializes in video ingest, complex media manipulation, transcoding and quality control (QC) solutions.
The acquisition significantly broadens the Dalet product offerings, which are built around an open, IT-centric technology framework. It affirms the company's dominance in MAM and media workflow management by creating end-to-end solutions that include comprehensive MAM capabilities along with state-of-the art image processing, media transcoding and distribution.
AmberFin has headquarters in Basingstoke, United Kingdom, and Dalet will continue to develop and support the AmberFin product line from that location. Jeremy Deaner is stepping down as CEO of AmberFin but is serving as a consultant for a period of time to facilitate the transition. With combined revenues of more than 55 million USD, Dalet solidifies its MAM leadership role and is well positioned to advance its corporate and technology goals.
Learn more about AmberFin and Dalet products at NAB 2014 by visiting the Dalet stand SL2725 and AmberFin stand SU8505.
For further information regarding Dalet, please visit http://www.dalet.com/