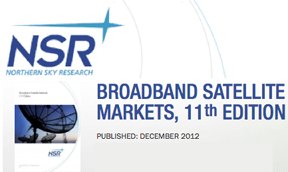 [SatNews] Industry focus on satellite broadband Internet access services has progressively shifted...
...over the last few years. North America, Western Europe, Asia, Australia, Latin America, the Middle East and Africa have all at one time or another been classified as the "next big thing" for satellite broadband and high throughput satellites (HTS). And now, the industry is shifting once more with the newest target market being Russia. This was just recently illustrated by the January 2013 report that RuSat was launching a new satellite broadband service to both enterprise-class and consumer-class clients based on Newtec's latest modem and hub technology including its MDM2200 IP satellite modem product.
Yet, this announcement is only the most recent in a series of deals stretching back nearly two years. In May 2011, Eutelsat and RSCC announced they would jointly commercialize Tooway services in the Russian coverage area of KA-SAT. Then in November 2011, Gilat signed agreements with RTComm, the satellite service arm of Rostelecom, and NIIR FSUE, an institute for technology advancement of the Ministry for Telecommunications and Mass Communications, to supply network equipment and Ka-band end-user terminals for RTComm's future constellation of multi spot-beam satellite services. This was followed by a technology cooperation MoU signed in May 2012 between RSCC and Hughes under which the companies would explore the development of broadband Internet services via RSCC satellites in Russia.
Much of the original impetus for these various deals can be linked back to RSCC's plans to launch a number of small- to mid-sized Ka-band spot beam payloads on upcoming satellites. In fact, the first of these planned Ka-band payload was to be on the Express-AM4 satellite, which was lost to a launch failure in 2011 and is now planned to be replaced in 2014. Two other Ka-band spot-beam payloads are included on the Express-AM5 and Express-AM6 satellites, both expected to launch during the course of 2013. Finally, an additional Ka-band payload was recently announced for the new Express-AMU1 satellite proposed between RSCC and Eutelsat. Even the above noted RuSat service, which is initially a Ku-band service using Gazprom Space Systems' recently launched Yamal-402 satellite, can be easily transitioned to Ka-band with a simple change of the LNB on the Newtec satellite broadband product.
Russia promises, but will it deliver?
Turning to the question of "is there real demand for satellite broadband access services in Russia?," NSR's latest assessment laid out in its Broadband Satellite Markets, 11th Edition study is that Russia appears at first glance to offer real long-term potential. It is a single market, a geographically large country, has a still developing terrestrial network, and there is strong demand for broadband Internet access services among individuals and businesses. These factors are no doubt the main motivations behind all of the above cited deals and partnerships over the last two years.
Yet, the Russian market also remains challenging for growth of satellite broadband access services. Cost of the service and, most importantly the upfront cost of the CPE, are a major hurdle among a fair portion of the populace in the more rural parts of the nation. Further, NSR has yet to see a major ISP in Russian get truly behind the effort, and the marketing and distribution will likely be the biggest issue of all in the development of these services in the country. Still, for 2015 and beyond, NSR assumes that satellite broadband access services in the Russian market will begin to gain some traction. This is expected to drive most of the Central & Eastern European broadband access subscriber growth forecasted in the 2015-2017 period as explained in-depth in the BBSM 11th Edition study.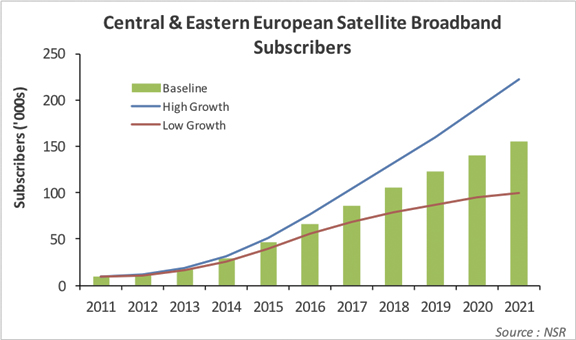 The Bottom Line
The satellite industry's focus appears to be swinging to Russia as the next most interesting satellite broadband access market. How long the focus will remain on Russia before pivoting to another region or country of the world is uncertain today. However, the Russian market does offer real opportunities for subscriber growth even if coupled with equally real challenges. Yet, with RSCC making very significant investments in spot-beam Ka-band capacity and other players investing in the ground infrastructure, the satellite industry is certainly justified in putting Russia in the satellite broadband access spotlight today.
Information for this article was extracted from NSR's report Broadband Satellite Markets, 11th Edition