[Satnews] Astrosat, India's first dedicated space observatory, was launched on Monday at 10:00 a.m. local time from the spaceport of Sriharikota in Andhra Pradesh—the spacecraft will be studying celestial objects.
A PSLV-C30 carried Astrosat along with six co-passengers, one satellite each from Indonesia and Canada, and four nanosatellites (nanos) from the US. Astrosat is India's first dedicated multi-wavelength space observatory. Astrosat's lift-off mass was approximately 1,513 kg. and was launched into a 650 km. orbit inclined at an angle of 6 deg to the equator by the launch vehicle.
This scientific satellite mission will, hopefully, uncover a more detailed understanding of our universe. One of the unique features of Astrosat mission is that it enables the simultaneous multi-wavelength observations of various astronomical objects with a single satellite, ISRO said. Astrosat will observe the universe in optical, ultraviolet, low and high energy X-ray regions of the electromagnetic spectrum, whereas most other scientific satellites are capable of observing a narrow range of wavelength band.
The mission is also to detect new briefly bright X-ray sources in the sky and to perform a limited deep field survey of the universe in the ultraviolet region. Astrosat is scheduled for five years of flight and carries four X-ray payloads, one UV telescope and a charge particle monitor.
According to ISRO, after injection into orbit, the two Astrosat solar panels automatically deployed in quick succession. The spacecraft control center at Mission Operations Complex (MOX) of ISRO Telemetry, Tracking and Command Network (ISTRAC) at Bengaluru will manage the satellite during its mission life.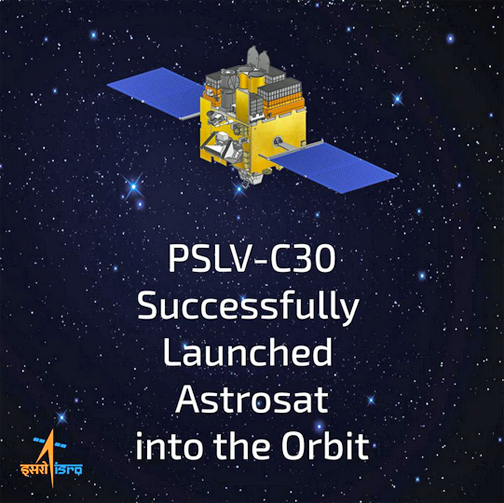 ISRO said the scientific objectives of Astrosat mission are to understand high energy processes in binary star systems containing neutron stars and black holes, to estimate magnetic fields of neutron stars and to study star birth regions and high energy processes in star systems lying beyond our galaxy.
Apart from ISRO, four other Indian institutions—Tata Institute of Fundamental Research, Indian Institute of Astrophysics, Inter-University Centre for Astronomy and Astrophysics and Raman Research Institute—were involved in the payload development. Two of the payloads were built in collaboration with the Canadian Space Agency 0CSA) and the University of Leiscester in the UK.
Executive Comment
Commenting on the launch, Indian Space Research Organisation Chairman AS Kiran Kumar said, "What it means for India is this: it is one of the first scientific missions which will be available to the Indian researcher community as an observation opportunity. This is a starting point for such things."
Story by Zee News, India.