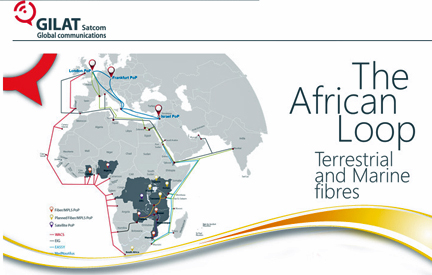 [SatNews] Gilat Satcom has established a new POP in the US which will provide a new direct satellite route for traffic between The Democratic Republic of Congo and the U.S.
Following a string of new connectivity contracts from operators and enterprises across Africa over the last year, this is Gilat Satcom's latest investment in its fiber and satellite infrastructure. The new POP, which is located in Intelsat's teleport in Maryland on the east coast of the USA, was established to answer growing demand for international broadband connectivity. It means that traffic between the US and Africa will not need to travel via Europe and so latency rates will be significantly reduced and speeds and capacity increased. As a result, Gilat Satcom's customers will find it much easier to access online video and other rich content.
Gilat Satcom has a growing range of fiber routes in coastal and landlocked Africa and provides telcos, ISPs, Governments and businesses with fast and reliable broadband connectivity at a highly competitive price. Gilat Satcom is among the first companies in Africa to offer non-stop East to West, coast-to-coast and international connectivity. Its MPLS network connects to the WACS, EASSy and SEACOM undersea cables via fiber local loops across Malawi, Mozambique, Namibia, Nigeria, Tanzania and Zambia and reaches the most remote areas of the continent.
Gilat Satcom's African headquarters is in Lagos and it has a number of joint ventures across Africa including Microlink in Zambia and Raga in the DRC.
For additional information regarding Gilat Satcom, please visit.