[SatNews] The Commercial Space Operations program at Embry-Riddle Aeronautical University and International Space University (ISU) recently executed a new memorandum of understanding, solidifying a relationship that has been in place since 2003 that provides new opportunities for both institutions and their students.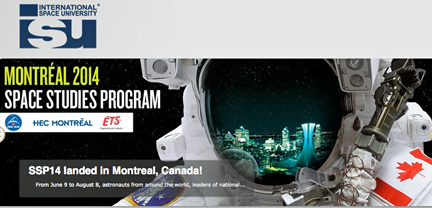 Recently, Embry-Riddle expanded its curriculum to include the pioneering Commercial Space Operations program, offering an interdisciplinary undergraduate degree tailored to meet the needs of the burgeoning commercial space industry. The world-renowned International Space University is a private, nonprofit institution specializing in providing graduate-level training to the future leaders of the emerging global space community at its central campus in Strasbourg, France, and at locations around the world.

Embry-Riddle and ISU have common interests in promoting space activities and strengthening the space sector's workforce through interdisciplinary research, career development, education and outreach. The two organizations will jointly pursue the highest quality standards in education and research related to the exploration, development and use of space. To this end, Embry-Riddle's Commercial Space Operations program and ISU hope to exchange and distribute information between both programs on events and activities of joint interest, exchange guest speakers and cooperate in the organization of outreach and awareness programs, joint workshops and conferences.
"We look forward to working with Embry-Riddle to explore synergies between their new Commercial Space Operations program and our Master program as well as to developing other modes of collaboration," said Dr. Angie Bukley, Dean and Vice-President for Academics and Research at ISU. "Building on the existing good relationship with Embry-Riddle, we are excited about strengthening our partnership and future possibilities."

"Embry-Riddle is pleased and excited about the growing relationship between our ground-breaking Commercial Space Operations academic program and the well-known and highly respected International Space University," said Dr. Richard Heist, Chief Academic Officer at the Daytona Beach Campus of Embry-Riddle. "Our objective, through this partnership, is to support the growing space community and to provide students with opportunities to network, engage and participate in global space-related initiatives. We look forward to our joint leadership role in educating students to support the growing global space industry."
For more information regarding Embry-Riddle Aeronautical University, please visit http://www.erau.edu/
Access http://www.isunet.edu/ for additional details regarding International Space University.