The world's first space security token was announced today at the Crypto Summit, by SpaceFund Inc., a Texas based venture capital firm focused on using new blockchain technology to fund 'frontier enabling' space technology startups.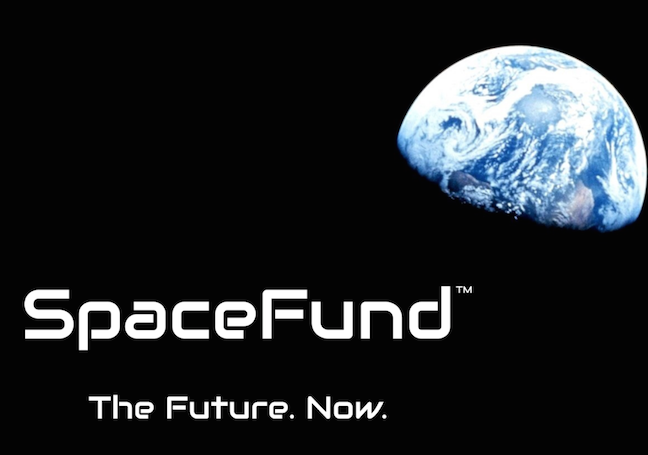 SpaceFund provides an insider perspective on the NewSpace industry, with a blend of technologists, investment experts, and business leaders across both the space and blockchain communities.
The company's management team also includes general partners who run successful investment portfolios with dozens of companies under management, the founder of the world's longest running space business plan competition, and leaders of the tokenization revolution.
Security tokens are "a digitized form of asset ownership, utilizing the reliability of the immutable shared ledger system, or blockchain, that is currently revolutionizing the world of finance. Essentially 'digital stock,' security tokens are a new form of digital financial technology replacing paper share certificates and providing significant benefits in how assets are held, traded, and audited. Security tokens also have built-in compliance, preventing unauthorized trades before they ever happen."
Rick Tumlinson, founding partner of SpaceFund, co-founder of several leading space initiatives, and space industry thought leader stated that SpaceFund's goal is to support the development and profitability of amazing new space startups around the world. With Jeff Bezos, Elon Musk, and others investing billions into a space economic infrastructure, a revolution is underway in space. SpaceFund wants to allow more visionary people to get involved, to support the entrepreneurs opening space to humanity, and to share in the wealth it will create. This offering is both a giant leap and a first step in that direction.
"This is a match made to open the heavens," said David A. Johnston, general partner of SpaceFund, CEO of Yeoman's Capital, and blockchain business pioneer.
Johnston continued that Yeoman's has started over 30 companies in the blockchain space, and they are applying that knowledge and network to SpaceFund. Together they are going to change the way people invest in space.

It is reported that 10 years after the white paper that started bitcoin, there is a revolution underway to open the world of finance to a much wider number of people. There is also a revolution underway to open the Solar System to all the people of Earth. While larger companies such as SpaceX and Blue Origin are well capitalized, the startups that will both open the frontier and develop products in space to change lives down here, still need investment. However, space has historically been an inaccessible asset class for most investors. Through fund tokenization, a wide pool of investors will finally have an opportunity to gain exposure to exciting startups in the space industry, even while they are still privately held. SpaceFund has coupled this new financial technology with a traditional venture capital structure that mitigates risk through both diversifying investor interests across dozens of companies and providing the expertise to choose the most high-growth and high-value projects.
Meagan Crawford, managing partner of SpaceFund, co-founder of the NewSpace Business Plan Competition, and former space industry executive added that tokenizing a space-focused venture capital fund removes major barriers for investors, providing them with liquidity and diversified exposure to exciting startups, while also providing those startups with the long-term support they need to succeed. This is the missing piece to solve the NewSpace financing puzzle — connecting the world's capital with those who will lead them to new worlds.

To begin, the SpaceFund security token is available to accredited U.S. investors, working within American Securities and Exchange Commission (SEC) guidelines. Then, as acceptable international legal frameworks are developed, SpaceFund security tokens will expand to include and allow investors from around the world. To enable this, SpaceFund is partnering with the industry leading, Swiss-based Smart Valor to develop international expansion strategies that will enable investors to participate in the fund in the most efficient and scalable way.

Olga Feldmeier, CEO of Smart Valor who will join SpaceFund's advisory board stated that a diverse set of regulatory frameworks for tokenization are rapidly developing in various jurisdictions around the world, while investor acquisition costs are growing quickly. Smart Valor has the platform and knowledge to efficiently reach a broad base of international investors in full compliance with these regulations. Their partnership will ensure that, once the time has come, SpaceFund will follow the fastest path to secure investments from abroad.

To ensure compliance and manage transactions, SpaceFund has partnered with Abacus to handle the issuance and ongoing administration of its security token.

Pradyuman Vig, CEO of Abacus remarked that tokens do three things for space; soften liquidity issues, simplify transactions, and create regulatory transparency. Abacus has the technology and team to make the tokenization process smooth, seamless, and safe for all involved. Together, the SpaceFund team is well suited to run the first space venture fund that tokenizes on the blockchain.